Kylie Jenner Reportedly Has An Epic Plan To Announce Her Pregnancy
You may be able to guess where she's going to do it.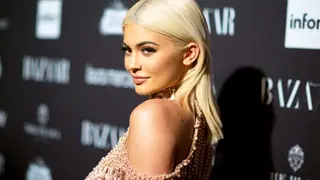 The chatter on Kylie Jenner's alleged pregnancy has died down for now, but according to reports, the 20-year-old is plotting behind the scenes to make an official announcement in due time, which she hopes would "break the Internet."
According to Radar Online, Kylie initially considered selling her announcemnet to the highest bidder, but ultimately decided to break the news herself on social media.
The reality star, who is reportedly four months pregnant with her first child with boyfriend Travis Scott, is allegedly set to reveal her pregnancy on Instagram.
"Kylie will announce her pregnancy on Instagram in the next week or so," a source told the publication. "And she believes that she is going to break the Internet when she does."
Since the reports surfaced of her alleged pregnancy, Kylie's been laying low and hasn't been seen out and about in her usual frequency.
Get more Kylie news with BET Breaks, above.