Mayor Races: Cherelle Parker Makes History In Philadelphia, Sheila Jackson Lee Headed For Runoff
Parker becomes Philly's first female mayor, but Jackson Lee must fight one more election round.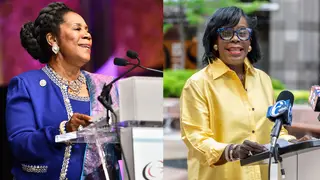 Cherelle Parker won her race Tuesday night (Nov. 7) to become Philadelphia's first woman mayor, while U.S. Rep. Sheila Jackson Lee must wait to make history after earning a spot in a two-candidate runoff for Houston mayor.
Parker, a former Philadelphia city councilwoman and state representative, defeated Republican David Oh in a landside, 74.5 percent to 25.5 percent, CBS News Philadelphia reports.
Mayor-elect Parker will take office in January 2024 as Philadelphia's 100th mayor.
"I am not superwoman. I make it look super easy because I have a great village," Parker said after her victory, acknowledging everyone who contributed to her success.
Parker, 51, was born to a single teenage mother and raised by her grandparents. She became the first person in her family to attend college and served 17 years in government.
"We're gonna make sure that we put people on the path to self-sufficiency," Parker said during her victory speech, according to NBC News Philadelphia. "You've heard me talk about making our public health and safety our No. 1 priority. Listen, I don't apologize about that. We are going to use every legal tool that is in the tool book to make this city safe."
In a city that hasn't elected a Republican mayor since 1952, it was no surprise that Parker defeated Oh.
Her challenge was squeezing out a victory among a crowded field of Democrats in the primary election. She topped the field with 33 percent of the vote, ahead of second-place finisher former City Controller Rebecca Rhynhart with 22.6 percent.
"Congratulations to mayor-elect Cherelle Parker on this historic milestone in her extraordinary career of public service," term-limited Philadelphia Mayor Jim Kenney said.
"I am proud to call Cherelle a friend and a colleague, and I look forward to working with her to ensure a smooth and successful transition that keeps our city's progress on track."
Meanwhile, in Houston, Jackson Lee came one step closer to becoming the city's first Black female mayor.
The Associated Press reports that she finished second behind state Sen. John Whitmire, a fellow Democrat, in a field of 17 candidates. Jackson Lee won 36 percent of the vote to Whitmire's 43 percent.
Since neither passed the 50 percent threshold, voters will return to the polls on Dec. 9 for a runoff election.
On Tuesday night (Nov. 7), Jackson Lee reiterated to supporters her focus on helping families in need, public safety, job creation and serving "all of the people" in a diverse city that is 45 percent Latino, 23 percent Black and 24 percent White.
If a University of Houston poll is accurate, Jackson Lee's campaign faces an uphill battle to defeat Whitmire, who holds a 51 percent to 33 percent lead, with 13 percent undecided.
The polling suggests that Jackson Lee has the upper hand among Black Houstonians and Democratic voters, and Whitmire has stronger support among White, Latino and Republican voters.