Fundraiser Launched to Benefit Singer Rachelle Ferrell
The jazz singer is reportedly experiencing "health, wellness, and life-related hardships."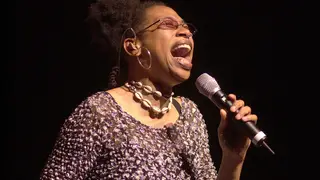 A fundraiser was launched for Rachelle Ferrell, 62, due to unnamed "health, wellness, and life-related hardships." Sweet Relief Musicians Fund is hosting the fundraiser.
"If you've been touched by her 30-plus years of blessings or been a part of the musical family she shared a meaningful and purposeful life with, please consider donating here today," the post on the website reads. "Your prayers are also welcomed, felt, and appreciated."
Vocal producer Toni Scruggs also shared fundraiser information on Instagram. "(Farrell's) care has been placed in the hands of people other than herself at this time, and those people are asking for help. As her fanbase, I have no doubt that we can," she wrote.
"We've enjoyed her abilities, her music, her story and her contribution to art and humanity as a whole. I think we can show how much we love and support her by contributing financially. I've attached the link below and it's in my bio. Please help in any way you can."
Farrell has had a legendary career as a jazz vocalist. A native of suburban Philadelphia, the singer has a six-octave range. She attended the Berklee College of Music in Boston, where she studied composition and arrangement. Early in her career, she sang backup for Lou Rawls, Patti LaBelle, Vanessa Williams and George Duke.
Her self-titled U.S. debut album was released in 1992 and was certified gold. The album featured the now classic single, "Nothing Has Ever Felt Like This" (featuring Will Downing).
According to its website, Sweet Relief Musicians Fund provides financial assistance to all types of career musicians and music industry workers who are struggling to make ends meet while facing physical or mental health issues, disabilities or age-related problems.