Another Whitewashed Movie Set in Africa Is Coming to a Theater Near You
Gods of Egypt is rightfully getting the side-eye.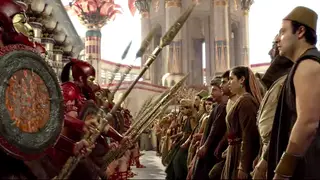 Somebody may want to update our history books to include all the white people who ruled Africa in the time of Jesus. At least, that's what Hollywood would like us to believe. Gods of Egypt is just another case of whitewashing history to serve the box office — which didn't work so well for Ridley Scott's Exodus: Gods and Kings — with facts being a mere suggestion.
Except, while Scott's argument for casting Christian Bale as Moses had to do with box office politics (he's a marquee actor without whom the film would have never been funded), Gods of Egypt is headlined by character actors and Gerard Butler, none of whom will have people running to the theater on opening day.
What Hollywood seems to be saying is that even the two random dudes from Mad Max: Fury Road and Jamie Lannister from Game of Thrones are better than casting actors of color.
At least they handed Chadwick Boseman a part, though it can't be very big one if he didn't even make the film's synopsis, which reads: "In this spectacular action-adventure inspired by the classic mythology of Egypt, the survival of mankind hangs in the balance as an unexpected mortal hero Bek (Brenton Thwaites) undertakes a thrilling journey to save the world and rescue his true love. In order to succeed, he must enlist the help of the powerful god Horus (Nikolaj Coster-Waldau) in an unlikely alliance against Set (Gerard Butler), the merciless god of darkness, who has usurped Egypt's throne, plunging the once peaceful and prosperous empire into chaos and conflict."
Watch the trailer for Gods of Egypt below:
Anyone else feel like that film was shot at Caesar's Palace in Las Vegas? No shade against Gerard Butler, though. Watch our interview with the actor below:
BET.com is your No. 1 source for Black celebrity news, photos, exclusive videos and all the latest in the world of hip hop and R&B music. 
(Photo: Summit Entertainment, Entertainment One UK)