Sandy Williams, Prominent Washington State Civil Rights Activist, Dies In Plane Crash
Williams, who published a Black newspaper in Spokane, was on a plane with eight other adults and one child, all of whom perished.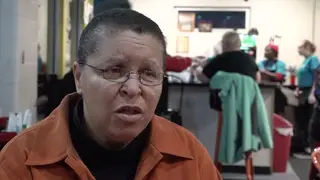 Civil rights activist Sandy Williams died in a plane crash Sunday (Sept. 4). The publisher of The Black Lens, an African American focused newspaper based in Spokane, Wash., was 60.
The Seattle Times reports that the U.S. Coast Guard confirmed that Williams was a passenger on the plane that a witness said took a nose-dive into the Puget Sound. Nine adults and one child were aboard the aircraft. Officials determined Monday morning (Sept. 5) that no one could have survived.
Williams' brother, Rick Williams, said his sister was returning home from vacation with her partner, Patricia Hicks. Their family had planned to celebrate Sandy Williams' 61st birthday next week.
She is remembered for giving voice to the struggle for equality and justice for the Black community. The Black Lens evolved from its focus on highlighting positive stories in Spokane's Black community to addressing racism, including the racial bias in the local criminal justice system.
Williams also founded Spokane's Carl Maxey Center, named for the city's first Black American attorney and civil rights leader. Its mission is to inspire, empower, uplift and advocate for Spokane's Black community.
"This is a loss to the whole community, not just the Black community. A light so bright has been extinguished," Spokane City Councilwoman Betsy Wilkerson, who serves as the president of the Carl Maxey Center board, told the Times.
Her activism included previously serving as a member of the Washington State Commission on African American Affairs and a former interim executive director at the Odyssey Youth Center, which serves LGBTQ youths.
"She worked on so many levels, it's hard for the average person to understand," KREM quoted Bevan Maxey, son of the late Carl Maxey.
Williams' brother recalled that she sky-dived with her daughter, Renika Williams, who lives in Brooklyn, N.Y., to celebrate her 60th birthday. Williams lived with her mother, Wilhelmenia Williams, in Spokane Valley.
Scores of people paid tribute to Williams on social media. A small sample is below.