5 Exciting Juneteenth 2021 Celebration Events Across The Nation
If you're in these areas, stop in and take part in the food, fun and culture.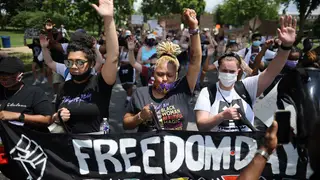 Juneteenth is the oldest known celebration of African American heritage and Culture and it's come a long way since those first cheers in 1865 of people in Texas who were informed that they were slaves no more.
Now it's spread nationwide and President Biden has signed a bill to make it a federal holiday. Multiple cities will play host to major events to commemorate the event. Here are five that are definitely worth visiting.
Los Angeles: Juneteenth Port of Los Angeles

Celebrate Juneteenth (June 19) at the Port of Los Angeles with festivities from 1 p.m. to 8 p.m. It's billed as a day of tributes, education and entertainment that will end with a bang—fireworks over the water.

The event serves a dual purpose. In addition to commemorating the cultural festival, it's also an opportunity to enroll underserved youths into the Los Angeles Maritime Institute's TopSail STEM Youth Program, event organizer Joe Gatlin of the San Pedro/Wilmington chapter of the NAACP said, according to Random Lengths News.

Washington DC: Moechella Unity Fest

Put on your seatbelt for Moechella's Juneteenth weekend. It kicks off on Friday (June 18) with the Rock the Block Party at Audi Field, which features free workouts to live go-go music. On Saturday (June 19), get ready to rally at the Million MOE March for Equity and Justice at Black Lives Matter Plaza. It features Top Band, Ambition Band and N2L.

The weekend's events culminate on Sunday (June 20) with the Moechella Unity Fest from noon to 8 p.m. The go-go party takes place on two stages and features Junkyard, EU feat Sugar Bear, ABM, TOB, Ambition, and MTM.

Galveston: Galveston Island Juneteenth Festival

Galveston, of course, is the historical centerpiece of Junetenth. On June 19, 1865, after the Civil War ended, U.S. Army Maj. General Gordon Granger informed the enslaved African Americans there that they had been free for more than two years.

Atlanta: HBCU Alumni Juneteenth Reunion

This annual gathering of HBCU alumni takes place on Juneteenth in the parking lot of Old Lady Gang's restaurant in Atlanta. The block party features live music, vendors, food and games. It's an opportunity for old friends to reunite for a good time and to support small businesses and local talent. The festivities begin at 1 p.m.

New York: Harlem Juneteenth shop and sip

Experience Harlem is hosting its Juneteenth edition of Shop & Sip, from June 18 – 20, to support Harlem Black-owned businesses. Shoppers who purchase something from the merchants will receive a ticket for a complimentary Maker's Mark cocktail at a participating restaurant.

The group offers a curated listing (Guide to Black Harlem 2021) of Black-owned Harlem retailers, restaurants and arts venues to support throughout the year.