Meagan Good Opens Up About Her Health Scare In Hopes Of Breaking The Taboos About Gynecological Health
We also spoke to a doctor to learn the symptoms of endometrial cancer to pay attention to.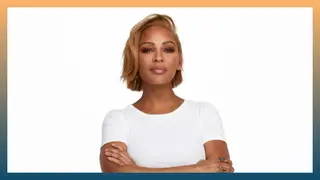 Gynecological health is often considered a taboo subject—especially amongst the Black community. Eager to end the stigma surrounding the intimate topic, Meagan Good is breaking her silence about her endometrial cancer scare with the goal to inspire others to speak up to doctors and keep loved ones in the loop.
"I think it's a taboo topic because it's uncomfortable to talk about," Good tells BET Lifestyle during a Zoom chat. "I don't think it's something that we've ever boldly spoken about unless we were talking about it in a different way. [...] We're not aware of how this is disproportionately affecting us [as a community]. We're not aware of the symptoms that we should be looking for. And so many times, when we do become aware, we're at a totally different point—in some cases, very scary points."
The actress/director shared with us that her physician once informed her that she had "abnormal" tissue in her uterus during a routine check-up. A biopsy revealed that the tissue had the potential to become malignant, it was removed.
"What I took away from it was just thinking about how one day everything's fine, and the next day, everything is completely different. It was terrifying thinking about my family's history where both of my grandmothers passed away from cancer and my grandfather as well. My aunt had a mastectomy. And so the takeaway was; imagine if I hadn't gone in for this appointment," Good shares with concern. "Imagine if this had grown into something and became something, and I didn't find out until after the fact."
She adds, "Almost 50% of Black women are not getting diagnosed early, and that's terrifying."
FYI: Only 53% of Black women with endometrial cancer receive an early diagnosis, which could be related to a number of intersectional variables, such as a lack of discussion about gynecologic health with friends, family, and clinicians.
"There's a stigma attached to it," Good says with concern. "The moment that I mentioned it to someone, they were like, 'Well, does that mean that you have HPV?' And I'm like, 'No, not at all.' It just let me know that there is a lack of information out there."
Through the Spot Her Campaign, Good hopes to help end the silence surrounding endometrial cancer, a type of uterine cancer that is on the rise, particularly among communities of color.
"I'm really passionate about the Spot Her Campaign because it's really about making sure that you're taking the proper precautions to take care of your body," she says, before pointing out that there is a lack of direction when it comes to knowing what symptoms to look out for.
Dr. Ginger Gardner, MD, FACOG, a gynecologic oncologist who specializes in gynecologic cancers, was on hand during our conversation to clear up any confusion. Learn more about endometrial cancer, its symptoms, and how to create trust with your doctor in the sections ahead.
What Is Endometrial Cancer?
"Endometrial cancer is the most common gynecologic tract cancer. It is the fourth most common cancer overall among women," says Dr. Gardner about the form of cancer that can be easily overlooked or mistaken for other conditions. "In gynecologic cancers, there are actually five tumor types. Each of them has different biology."
The Chair of the Foundation for Women's Cancer explains that there are structures hidden deep in the pelvis that often go unseen.
She continues, "It's time to talk about these diseases because it is a really important area of women's health, especially with the rise of endometrial cancer cases."
What Symptoms Should People Be Aware Of?
Endometrial cancer symptoms are readily missed or confused with those of other diseases. Dr. Gardner adds that abnormal bleeding, spotting, or brownish discharge after menopause, as well as irregular or heavy bleeding before menopause, are symptoms of endometrial cancer.
"Endometrial cancer symptoms also include pelvic pain or pressure," Dr. Gardner educates us.
Identifying symptoms and seeking help is particularly important for the Black community, where there are significant disparities in health care.
"The average age of menopause is between the ages of 50 and 52. So, when patients over 52 come in the office and still have a menstrual, I know that needs to be checked," she adds. 
The doctor urges women to talk to their healthcare provider and visit them for regular appointments.
How Can We Build Trust With Our Health Care Provider?
Dr. Gardner's advice is simple: "Find a doctor that you can talk to."
While she is extremely knowledgeable about the anatomy of those assigned female at birth, Dr. Gardner understands the importance of getting to know her patients.
"I spend the majority of my time understanding the woman that's sitting in front of me," she promises. "I feel that all women need to find a provider that has the compassion and dedication for the work. That's the synergy that we need."
Women with endometrial cancer have stated that their symptoms were disregarded. This leaves others others worried that they won't be able to talk about their personal experiences. The stigma associated with discussing gynecologic health doesn't help.
"It may be uncomfortable to talk about, but if you have to choose between being uncomfortable, or being able to live and be healthy, then the option is clear," Good explains about bringing up concerns regarding your gynecological health with your doctor.
She also offers this thought-provoking advice, "At the end of the day, it is about having the courage and [to put your health at the forefront]—even when you are afraid."
We couldn't have said it better ourselves!
** Editor's Note: This story/interview has been edited and condensed for clarity.