Dylann Roof's Sister Targets Black Kids At Walkout In Racist Snapchat Saying "I Hope Y'all Get Shot"
Morgan Roof was arrested for bringing a knife to school.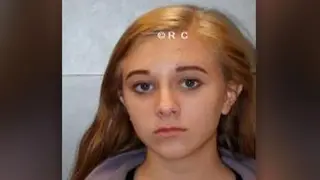 The sister of Charleston church shooter and white supremacist Dylann Roof was arrested on National Walkout Day after deputies say she brought weapons to her school.
On Wednesday, 18-year-old Morgan Roof was charged with simple possession of marijuana and two counts of carrying a weapon on school grounds by the Richland County Sheriff's Department, reports WACH.
Reportedly, a school resource officer was contacted by a school administrator after marijuana, pepper spray and a knife were found on Roof.
Additionally, screenshots of a Snapchat posted by Roof revealed she said she hopes participants in the school walkout get shot. She also made a racial comment in the post.
"Your walking out for the allowed time of 17 mins, they are letting you do this, nothing is gonna change, what tf you think it's gonna do? I hope it's a trap and yall get shot, we know it's fixing to be nothing but black people walking out anyway, no offense ofc buuuuut"

After the items were found on Roof, she was immediately arrested by the school's SRO

Roof was transported to the Alvin S. Glenn Detention Center

After she appeared in bond court Wednesday night, she was released on a $5,000 bond. Roof was ordered not to return to the incident location.

The principal at A.C. Flora High School sent the following message to parents:

"In an isolated incident yesterday, administration was notified that there was possibly a weapon on campus. Through diligent work from the Assistant Principals and the School Resource Officers, an unloaded weapon was recovered. The investigation of this matter involves law enforcement as well as school officials. Discipline for students involved will follow the Richland One Code of Conduct.

"I realize that rumors and the tragic school shootings in Florida are events that can cause anxiety for our students, parents, faculty, and the community. Be assured that the safety of our students will always be our top priority. We must continue to work together to maintain a safe and positive learning environment. Please feel free to contact me at 803.807.8697 if you have questions or concerns."