10 Things You May Not Have Known About The Making Of 'Selma'
Ava DuVernay's major studio debut remains a vital documentation of a pivotal time in America's civil rights movement.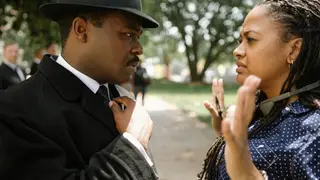 With a keen eye for detail, a deep sense of history, and a progressive perspective, DuVernay vividly paints the picture of Selma not as a one-man-show for the exploits of Dr. Martin Luther King Jr. but a collection of unsung heroes, beautiful, Black sisters, and brothers who put their lives on the line for freedom.
Bringing Selma to life was an amazing cast who all gave riveting performances. David Oyelowo stars as Dr. Martin Luther King Jr., Carmen Ejogo as Coretta Scott King, Andre Holland as Andrew Young, Tessa Thompson as Diane Nash, Stephen James as John Lewis, Common as James Bevel, Lakeith Standfield as Jimmie Lee Jackson, Tom Wilkinson as President Lyndon B. Johnson, and Oprah Winfrey as Annie Lee Cooper.
While it was also nominated for Best Picture by the Academy of Motion Pictures, its theme song, "Glory" took home the coveted Oscar for Best Original Song.
As we celebrate MLK Day, here are the 10 Things You Might Not Have Known About the Making of Selma.
Ava Duvernay was the 7th Choice as Director of the film

The idea of creating a film about Selma had been floating around Hollywood since the mid-2000s. While the possibility of a Selma movie collected dust, five different directors were considered to direct the film before Ava was chosen. Lee Daniels was set to direct, but pulled out to direct The Butler. David Oyelowo kept lobbying for Duvernay to lead the project even though she had never directed a film with a major studio.

"He convinced the producers to try me after many directors had left the project," she wrote on Twitter.  "I wrote a script for the budget they had, which got it greenlit. And we began."

With indie films such as  2010's I Will Follow (with a budget of $50,000 from personal savings), 2012's Middle of Nowhere (which cost $200,000 and starred David Oyelowo),  and an episode of "Scandal" on her resume, DuVernay signed up to direct Selma with a $20 million budget for her first film with a major studio.

King's Original Speeches Are Not Used in the Film

When Ava DuVernay signed on to direct Selma, she was informed that she would not be able to use the original speeches of Dr. Martin Luther King Jr. in the film. King's speeches are copyrighted material and his estate had already given permission to Steven Spielberg for an upcoming, untitled film. What a bummer! But Ava would not be stopped and decided to write speeches that embodied King's spirit herself.

Recalling how she rewrote speeches for Selma, DuVernay said, "I would hike and I would listen to King's speeches in my earphones and really just try to—more than the cadence, which, yes, you know, there are a couple of tricks that he did to really rile people up... I'd listen to the speech, I'd try to educate myself, challenge myself to understand what he was telling me, what he was telling us and then I just tried to tell that in a different way."

Amazingly, Ava captured the essence of King in every speech in Selma.

Jazz Musician Jason Moran Composed the score for Selma

When it came time to select someone to score Selma, Ava hit a home run by choosing accomplished jazz pianist Jason Moran. Just as it was her first feature film as a director, this was also Moran's first foray into film scoring.

Moran, who now serves as the Artistic director for jazz at The Kennedy Center, was discovered by Ava, who was drawn to his ability to connect "the urban and the rural in his music production."

The score received glowing reviews, and Moran's music tapped into the emotions of the story. Film Music Magazine noted, "It's an unstoppable sense of history-making that could perhaps only be captured by a musician so steeped in jazz and its cultural heritage."

Ava DuVernay became the first Black woman to receive a Golden Globe Nomination as a Director

Selma became a history-making moment for Ava DuVerany as she became the first woman to receive a Golden Globe nomination for Best Director. At the time of her historic nomination, only two other African-Americans, both men, have ever been nominated in the Best Director category at the Globes: Spike Lee in 1990 for Do the Right Thing and Steve McQueen in 2014 for 12 Years a Slave.

Ava rewrote the majority of the Selma script

The original script for Selma was written by Paul Webb and it centered primarily upon the relationship between Martin Luther King Jr. and President Lyndon B. Johnson. When Ava took over the reins of the project as director, she went about revising the script with Webb. DuVernay would wind up rewriting 90% of the script.

DuVernay was not shy about erasing any traces of a "white savior" in the film. She explained, "The industry tends to encourage us to strip away who we are to be with the party line. I'm a Black, woman filmmaker and I'm very proud of that."

There Were No Women in the original version

When films of the Freedom Movement are greenlit, the men dominate the narratives. The women, who sacrificed just a much and sometimes more, are often relegated to the fringes of the story or even worse, invisible. Ava DuVervay brilliantly corrects these flaws by placing powerful women at the center of Selma's story.

Explaining why highlighting the women of the movement was so important to her as a director, DuVernay notes, "I wanted to make sure that women were present, instead of just part of the pattern on the wallpaper. First of all, I wanted to reframe Dr. King's wife, Coretta Scott King (played by Carmen Ejogo), into a real person, with her own thoughts and opinions about her husband and the civil rights movement. I brought in Diane Nash's (Tessa Thompson) character. I brought in Oprah (Winfrey), who plays Annie Lee Cooper. Many women were crucial players and first-rate activists in the civil rights movement, and I wanted to show that fact to the world."

Ava gave space for Black women in Selma who history has tried to forget.

Selma is the first feature film on Martin Luther King

The life of Martin Luther King Jr. has been captured on the small screen several times. Paul Winfield played the civil rights icon in the NBC miniseries King, which aired on three consecutive nights, February 12 through 14, in 1978. Also, Jeffery Wright starred as King in the HBO film Boycott in 2001. There have been a plethora of documentaries on King's life as well. But it wasn't until Selma in 2014 that a full-length, motion-picture portrayal of King's life had been created.

Imagine this: A Black woman was responsible for bringing the story of a Black American icon to the big screen for the first time.

Rhymefest co-wrote 'Glory' with Common and John Legend

The name Che "Rhymefest" Smith may not be widely known, but more than likely you have heard his work. The MC/activist from Chicago has penned some classic tracks. He co-wrote one of Kanye West's signature songs, "Jesus Walks," which won a Grammy for Best Rap Song at the 47th Annual Grammy Awards, and he co-wrote "New Slaves" from Kanye's Yeezus album (2013). But many are not aware that Che was a co-writer on "Glory," the theme song of Selma.

Along with fellow Chicagoan rapper/actor Common and R&B star John Legend, Che's contributions made "Glory" one of the most inspirational songs of the decade.

"Glory" peaked at number 49 on the U.S. Billboard Hot 100. It would go on to win an Oscar award for Best Original Song (2015), a Golden Globe Awards (2015), and a Grammy for Best Song Written for Visual Media (2016).

'Selma' was shot in just 32 days

The talents of Ava DuVernay and the cast of actors come shining through in Selma. It's visually stunning, and the ensemble gives vivid portrayals of the heroes of the civil rights movement. As good as Selma is, it's hard to believe that the entire film was shot on a tight 32-day schedule on location in Alabama and Georgia.

Looking back on making a classic film in little over a month, Duvernay remembered, "We shot Selma in 32 days, which is just 13 more days than I had to shoot Middle of Nowhere. $20 million to make a film — a period film, with large set pieces and horses and tear gas and two state capitols and churches filled with people and marches filled with people and such a big cast — it goes quickly. So really, oddly, I felt like I was making an indie. I never had enough time. I never had enough money."

Completing Selma in 32 days is even more proof that Ava is one of the best directors on the scene.

Oprah Winfrey and Brad Pitt Are Both Executive Producers

It takes a lot to get a film like Selma to the masses. Speaking about the struggles to get the stories of Black people in film at SXSW, Duverany said, "Studios are not lining up to make films about Black protagonists." Because of this reality, it's always nice to have friends who have clout in the industry to help make things happen. Thankfully, Hollywood heavyweights Oprah Winfrey and Brad Pitt come aboard to carry the film to the finish line.

Oprah's Harpo Films and Brad Pitts' Plan B Entertainment were both pivotal in getting Selma in theaters, and they used their collective celebrity to bring attention to the project.

While it's not surprising that Oprah would back a film project of this magnitude, many were surprised to learn of Brad Pitts' involvement. But Pitt has a long track record of investing in Black films. Pitt's company went on to produce 12 Years a Slave, Moonlight, If Beale Street Could Talk, and The Last Man in San Francisco.