10 Must-See Films At The 2019 Urbanworld Film Festival
Get a sneak peek at what is Black and beautiful on screen this fall.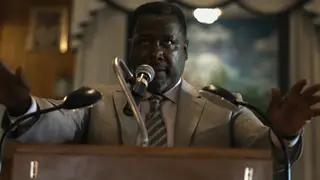 For the past two decades, The Urbanworld Film Festival has been one of the largest international competitive festivals in the world. Founded in 1997 by Stacy Spikes, the Urbanworld Film Festival is a unique space that connects Black directors, writers, producers and actors from across the diaspora to showcase their work in front of a captive audience. The purpose of the festival is to "curate a slate of films representing the broadest lens of diversity across stories, characters, themes, and cultures." 
To highlight some of the films that have been creating a buzz this year, here is a list of the top 10 films showing at the 2019 Urbanworld Film Festival. If you can't be in attendance to check out these great selections at the festival, no need to worry! Many of these films shown at the festival will be released in theaters across the country and on streaming services.
Harriet, directed by Kasi Lemmons 

While her likeness has not appeared on U.S. currency as we'd hoped, Harriet Tubman's life will be coming to the big screen this fall. Based on the exploits of  "Black Moses," the "Conductor of the Underground Railroad," Harriet chronicles the remarkable story of the abolitionist's life. The film portrays Harriet Tubman from her escape from slavery into becoming one of the most celebrated figures in American history by freeing hundreds of slaves as a freedom fighter. Directed by Kasi Lemmons (Eve's Bayou, Talk to Me, Remember the Titans) and starring Cynthia Erivo in the lead role, Harriet is undoubtedly one of the most highly anticipated films of the year.

Harriet is premiering Wednesday night at Urbanworld and is scheduled to be released in the United States on November 1 by Focus Features.

Just Mercy, directed by Destin Daniel Cretton

Highlighting the corruption of the criminal justice system, Just Mercy reveals the heart-wrenching reality of when the innocent are wrongfully accused and convicted. Starring Michael B. Jordan, Academy Award winner Jamie Foxx, Rob Morgan, Tim Blake Nelson, Rafe Spall and Brie Larson, Just Mercy is based on attorney Bryan Stevenson's experience of advocating for Walter McMillian, a man wrongfully imprisoned on death row for the murder of a white woman. Upon graduating from Harvard, Bryan Stevenson (Michael B. Jordan) turns down lucrative job offers in order to travel to Alabama to provide a proper defense strategy for an innocent man. This experience would eventually become Stevenson's life's work.

Directed by Destin Daniel Cretton and produced by Michael B. Jordan, Just Mercy is premiering at Urbanworld on Friday, Sept. 20 and is set to be released nationwide on January 10 by Warner Bros. Pictures.

Black and Blue, directed by Deon Taylor

Black and Blue is a fast-paced action thriller about a rookie cop (Naomie Harris) who inadvertently captures the murder of a young drug dealer on her body cam. After realizing that the murder was committed by corrupt cops, she teams up with the one person from her community who is willing to help her (Tyrese Gibson) as she tries to escape both the criminals out for revenge and the police who are desperate to destroy the incriminating footage. The film also stars Mike Colter, Reid Scott, Beau Knapp, and Frank Grillo.

Black and Blue will screen at Urbanworld on Saturday, Sept. 21 and is scheduled to be released nationwide on October 25.

First Wives Club, executive producer Tracy Oliver

First Wives Club is just another example of how Black women keep winning. Premiering on BET's new streaming service, BET+, First Wives Club is an updated version of the classic '90s film, sprinkled with much #BlackGirlMagic. The series stars Ryan Michelle Bathe as Ari, Jill Scott as Hazel, and Michelle Buteau as Bree -- three friends that are successful in their careers but their marriages have fallen apart. The three besties decide to get together to help one another move on and finally start living their best lives! The series is executive produced and written by Tracy Oliver, who also wrote the box office smash Girl's Trip.

First Wives Club will screen at Urbanworld on Saturday, Sept. 21 and premieres on Sept. 19 on the new streaming service BET+.

The Apollo, directed by Roger Ross Williams

Without question, for decades in Harlem, the Apollo Theatre was epicenter of Black music and culture. With legends such as Ella Fitzgerald, James Brown, Aretha Franklin, Richard Pryor, Luther Vandross, D'Angelo, Lauryn Hill and many more all having roots in the historic venue, the Apollo Theatre was ultimate place where Black stars were made. Directed by Roger Ross Williams (Life, God Loves Uganda) and produced by Lisa Cortes, The Apollo traces the 85-year history of the theater and all of the challenges that Black Americans have encountered throughout its existence. Jamie Foxx, Angela Bassett, Pharrell Williams, Common, Patti LaBelle and Smokey Robinson are all interviewed in the documentary, and they give their insight on the significance of the Apollo Theatre.

The Apollo will screen at Urbanworld on Thursday, Sept. 19 and debuts this fall on HBO.

A Great Day in Hip-Hop Revisited, directed by Nelson George

September 28, 1998, is regarded as one of the greatest days in the history of hip-hop and in Black music at large. Over 200 MCs, DJs, producers and dancers, including the likes of Rakim, Slick Rick, Mos Def, Questlove, Da Brat, MC Shan, Black Thought and Fat Joe, all gathered to be photographed by the legendary photographer Gordon Parks. The photo was immortalized on the cover of XXL magazine. This cast of Black excellence came together in front of the same building in Harlem on 126th Street, between Fifth and Madison Avenues, that the original A Great Day in Harlem photo featuring the giants of jazz music was taken in 1958 by Art Kane. Director Nelson George gives a behind-the-scenes account that tells the incredible story of how this day came to be.

A Great Day in Hip-Hop Revisited will screen at Urbanworld on Friday, Sept. 20. 

All Rise, directed by Anthony Mandler

In All Rise (formerly titled Monster), a bright honors student with filmmaking aspirations named Steve Harmon (Kelvin Harrison Jr.) has his life turned upside down when he acts as a lookout during the lethal armed robbery of a Harlem bodega. A once-promising young man is now seen as just another inmate within the criminal justice system. But he and his lawyer decide to fight against his conviction and declare his innocence. The film also stars Oscar and Grammy-winner Jennifer Hudson, Golden Globe-winner Jeffrey Wright, Jennifer Ehle (Zero Dark Thirty), A$AP Rocky, Nas, Tim Blake Nelson (O Brother, Where Art Thou) and John David Washington (BlacKKKlansman).

All Rise will screen at Urbanworld on Thursday, Sept. 19.

The Remix: Hip Hop X Fashion, directed by Lisa Cortés and Farah X

The story of hip-hop cannot be authentically told if the contributions of Black women are ignored. Anytime that happens, a remix is always in order. The Remix: Hip Hop X Fashion takes an in-depth look at the lives of fashion icon Misa Hylton, streetwear designer April Walker and others who have shaped the aesthetic of hip-hop fashion that has inspired cultural expression across the globe. Directors Lisa Cortés and Farah X center the film around on the undeniable impact of these exceptional women and their lasting influence upon hip-hop, the classic videos they styled and all the designs that changed pop culture forever.

The Remix: Hip Hop X Fashion will screen at Urbanworld on Friday, Sept. 20. 

Burning Cane, directed By Phillip Youmans

19 year-old Phillip Youmans has delivered one of the most critically acclaimed Black films of the year in Burning Cane. The film stars Wendell Pierce as a Louisiana preacher in a film that examines the impact of religion on a rural Black community. A deeply religious woman must come to terms with her faith, a son who's struggling with alcohol addiction, and the reality of a troubled minister. Burning Cane explores the dangers of toxic masculinity and the impact of Black religion on African-American people in the South.

Burning Cane will screen at Urbanworld on Saturday, Sept. 21.

Prizefighter, directed by Lyndon J. Barrois 

Before Cassius Clay would transform into Muhammad Ali, the sports world's first flamboyant heavyweight champion was Jack Johnson. Prizefighter documents the controversial life of legendary heavyweight champion Jack Johnson, the first African-American heavyweight boxer to win the title and reign from 1908-1915. Directed by Laydon J. Barrois, (The Matrix Reloaded, The Matrix Revolutions, The Tree of Life) using old school techniques of classic stop-motion animation with new school shooting methods, the film looks into Jackson's tumultuous marriage (Jackson married a white woman named Etta Terry Duryea, which was taboo and illegal in some states at the time), his constant battles against racism in boxing, his brashness in the face of white supremacy and the tragedy of his untimely death.

Narrated by Keith David, Prizefighter reclaims the story of one of the greatest boxers of all time. Prizefighter will screen at Urbanworld on Friday, Sept. 20.