Megan Thee Stallion To Premiere New Song for STARZ's "P-Valley" Season 2
The Grammy Award winning rapper also walked the "pink" carpet with the cast at the L.A. premiere.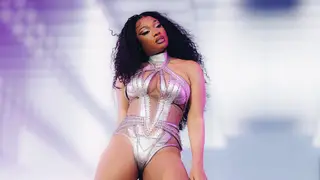 Grammy Award-winning superstar rapper Megan Thee Stallion is set to premiere a brand new original song for STARZ's "P-Valley" season two. Based on the play by Pulitzer Prize winner Katori Hall, the acclaimed drama returned to the delight of fans at 12:01 a.m. on Friday, June 3, and is already trending on social media.
P-Valley chronicles the life and escapades of an eclectic cast of characters who work at The Pynk—the fictional strip club in Chucalissa, Mississippi. The series has drawn praise from collaborators from across the music industry for its authentic trap music and for being a platform to spotlight southern female rappers.
The song's title has yet to be released, but Meg joined members of the cast last night at the Los Angeles premiere of the series. Clad in a pink strappy dress, the rapper posted on an appropriately pink carpet alongside stars Nicco Annan, Elarica Johnson, Brandee Evans, Shannon Thornton, and J. Alphonse Nicholson, as well as creator, executive producer, and Pulitzer Prize winner Katori Hall.
It's been a big week for MTS. She debuted the video for her viral hit, Plan B, yesterday. The unique video featured the rap star clad in all Black with unique, computer-generated graphics and was directed by John Miserendino and Mugler creative director Casey Cadwallader, per Pitchfork.
The visuals feature costuming by Mugler as well as an extraordinary nude bodysuit. When teasing the song this year at Coachella, she called the hit "very motherf**king personal" and dedicated it "to whom it may the f**k concern."

As for P-Valley, this year's highly-anticipated season will address how the crew of The Pynk coped with the coronavirus pandemic while pursuing new dreams and promising plenty of the drama fans are used to. "As strippers and people in the stripping industry — which is based on intimacy and gathering — our characters have to figure out a way to survive in a moment where gatherings have stopped," Hall told Entertainment Weekly in April. "To us, it was just a very universal experience, like everybody and they mama had to deal with having their dreams, their livelihoods stop. We're using fiction to tell a very important truth that I think is going to resonate with our fan base, and also newer viewers who come to the show."