Wendy Williams Speaks Out Amid Frozen Assets Fiasco, Mental Health Rumors
A statement was issued and obtained by BET.com on Feb.14.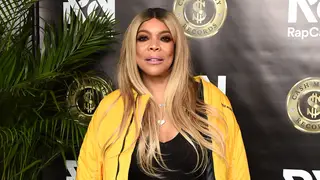 Wendy Williams is officially addressing the reports about her current legal battle against Wells Fargo and her mental health.
In case you missed it, the daytime talk show host has been in the news lately amid chatter regarding her funds being frozen at the national bank after a petition was issued asking the court to restore access to her account. Rumors have also been swirling that Williams is quietly battling mental health issues.
Williams attorney, LaShawn Thomas, Esq., issued a statement obtained by BET.com on Monday (Feb. 14) to respond to the several allegations and shared that the 57-year-old denies "all allegations about her mental health and well-being."
"During this hiatus from the show, Wendy has employed holistic health professionals to help her reach optimal health during her treatment of Graves' disease and thyroid concerns," the statement reads.
BET previously reported that Williams' brother, Thomas Williams Jr., denied the rumors that his sister was suffering from dementia back in Nov. 2021.
Adding, "It saddens Wendy that Wells Fargo has chosen to believe the allegations of a former employee who is upset because she no longer has direct and unfettered access to Wendy's financial affairs. Wendy had to unfortunately bring this action because Wells Fargo has refused to honor her Power of Attorney, granting her son authority to make inquiries to the bank on Wendy's behalf."
The statement also hints that Williams believes that the false narratives that have been bubbling up in the media are coming from one person whom she considered a friend.
The "How You Doing?" host also responded to her assets being frozen by Wells Fargo stating that "she has spoken to several bank representatives and has even gone into a local branch and discussed this issue with bank managers."
Concluding, "Wendy is grateful for the love and the outpouring of support she has received from her fans and she can't want to get back. She thanks everyone who has been patiently awaiting her return and believes that, thanks in large part to the love and support of her son, her family, her new team of doctors and a change of scenery, she is on the mend."
In other Wendy Williams news, Sherri Shepherd will reportedly be named the "permanent guest host" of The Wendy Williams Show. According to Variety, Shepherd has been in "advanced discussions" with Lionsgate's Debmar-Mercury for her own daytime talk show, which could possibly replace the talk show series.
Shepherd is scheduled to take the "Hot Topics" seat again from Feb. 21 to Feb. 25.