Poll: 4 out of 10 People Believe Race Relations Worsened Under Obama
The findings also addressed America's outlook on voting rights, criminal justice and equal employment opportunity.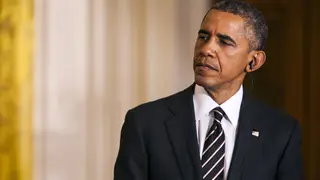 As President Barack Obama and civil rights leaders prepare to mark the 50th anniversary of the Bloody Sunday march this weekend, a new CNN/ORC poll claims four in 10 Americans say national race relations have gotten worse since Obama took office.
According to the poll's findings, 45 percent of white Americans hold that opinion and 26 percent of Blacks. Only 15 percent of Americans think race relations have gotten better under Obama, while 45 percent think relations have remained about the same.
The poll also addressed Americans' outlook on voting rights, criminal justice, equal employment opportunity:
Fifty-one percent say the Voting Rights Act, signed into law the summer after the historic Bloody Sunday march, remains necessary to ensure that blacks are allowed to vote, while 47% say it is no longer needed.
Half of Americans believe the nation's criminal justice system favors whites over blacks, while 42% say both groups are treated equally.
Seventy-two percent say Blacks in their community have as good a chance as whites at receiving qualified employment, whereas 28% say they do not.
Three-quarters of African Americans (76%) believe the criminal justice system favors whites, compared with 42% of whites who share that sentiment.

A survey respondent's regional residence — such as the South — and age also appeared to factor into the differing perceptions among Black Americans. Southern and older African-Americans were more likely to say that the Voting Rights Act remained necessary today and less likely to think that Blacks in their community stand as good a chance as their white counterparts at getting jobs for which they are qualified.
The poll findings were published a few days after the U.S. Department of Justice released a report citing widespread racial bias by the police department in Ferguson, Missouri. While the report severely criticized the department for discriminatory tactics, such as excessive force against Blacks, the white former Ferguson officer Darren Wilson, who killed unarmed 18-year-old Michael Brown, was cleared of civil rights charges.
"We must do better not only as a city but as a state and a country," Ferguson's mayor, James Knowles, said in a press conference earlier this week, responding to the report. "We must all work to address issues of racial disparity in all aspects of our society."
BET Politics - Your source for the latest news, photos and videos illuminating key issues and personalities in African-American political life, plus commentary from some of our liveliest voices.  Click here to subscribe to our newsletter.  
(Photo: Samuel Corum/Anadolu Agency/Getty Images)