Kendrick Lamar Releases Ghana Trip Mini-Documentary
He's celebrating his 35th birthday with the release.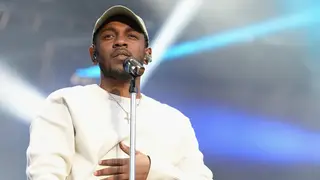 Kendrick Lamar, on his 35th birthday, releases a mini-documentary about his first trip to Ghana.
Titled A Day in Accra, Ghana, the documentary was filmed shortly after the release of his latest album Mr. Morale & the Big Steppers and documents his trip to the African nation.
In the Spotify-partnered visual, the Compton rapper visits kids at Virgil Abloh's Ghana Freedom skatepark. The film also captures Accra's busy activity and aerial coastline views.
Speaking with Spotify Head of Urban Music and Creative Director Carl Chery, K Dot details being present during the trip and how he tries to reverse the stigma around therapy on his new album.
"We learned to hold all our s**t in," he said, adding how he "challenges myself to go to therapy…it's like a whole new step in a whole new generation… it's growth."
"Everybody got their own different experience," Kendrick continues. "Everything that we do out here, everything that we say, that's been done… It's all a representation of all of us."
During his trip to Ghana, Lamar was joined by pgLang co-founder Dave Free, his longtime partner Whitney Alford and photographer Renell Mendrano.
Watch the A Day in Accra, Ghana mini-documentary below.