Happy Birthday, Dr. Bobby Jones! Ten Things You Didn't Know About The Gospel Icon
The legend turns 85 years old today.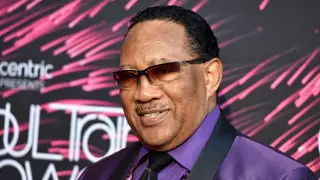 Today (September 18) the gospel music world is celebrating a living legend, Dr. Bobby Jones, as he marks his 85th birthday. Dr. Jones is a pioneer, an inspiration, and a true icon in the world of gospel music, having dedicated his life to spreading a message of faith, hope, and love through music. Kirk Franklin said it best exclusively to BET.com, "Everyone stands on your shoulders, we are who we are because of 'Bobby Jones Gospel' and Bobby Jones."
While many are familiar with his groundbreaking television show, "Bobby Jones Gospel," and his contributions to the genre, here are ten lesser-known facts about this remarkable individual.
It All Began In Tennessee.

Dr. Bobby Jones was born in Henry County, Tennessee. He excelled academically and graduating from high school at only 15 years old.

Big Break In Nashville

Dr. Jones's television career was launched in 1976 on  Nashville's WSMV with the Sunday show "Nashville Gospel." Four years later, he would make history at BET.

First Gospel Video Show

In 1980, Dr. Jones pioneered the concept of a gospel music video show with "Bobby Jones Gospel." This groundbreaking program ran for an impressive 35 years right here on BET, making it the longest-running gospel music show in television history. By 1989, "Video Gospel" debuted under Dr. Jones' leadership, which was originally the only national television outlet for gospel videos.

A Doctor of Education

Dr. Bobby Jones earned his bachelor's degree in elementary education by age 19. He also holds a Doctorate of Education degree from Vanderbilt University. His commitment to education is as strong as his dedication to gospel music!

Grammy Award Winner

In 1984, Dr. Jones -- under the name Bobby Jones and New Life -- received a Grammy Award for Best Soul Gospel Performance By A Duo Or Group for the song "I'm So Glad I'm Standing Here Today." This accolade solidified his status as a gospel music luminary.

Is a Member of a Fraternity

Dr. Bobby Jones is a member of Phi Beta Sigma. He pledged the Zeta Alpha Chapter of Phi Beta Sigma Fraternity, Inc.

Author

In 2000, Dr. Bobby Jones gifted the world with a captivating glimpse into his remarkable journey with the release of his memoir, "Make a Joyful Noise: My 25 Years in Gospel Music." This illuminating and heartfelt memoir offers readers an intimate and inspiring portrait of Dr. Jones's life, chronicling a quarter-century of his unwavering dedication to the genre he loves dearly.

Embracing Of LGBTQ People

The gospel industry has been embracing of their LGBTQ supporters but Bobby Jones was ahead of his time. In 1994, as HIV/AIDS was devastating queer communities, Jones pushed back on the narrative that being gay is simply behavioral, "I'm too intelligent for that. I do listen to what experts in the fields of human sexuality have to say about people and what happens to them when they reach puberty, the changes that happen in adolescence."

In 2006, he appeared in the Black LGBT film "Dirty Laundry," which also included Jenifer Lewis and Loretta Devine. In the touching film, directed by the late Maurice Jamal, about love, Jones played Pastor James. 

Honored By President George W. Bush

In 2001, Dr. Jones received a presidential commendation from President George W. Bush during Black Music Month. You can read Bush's speech here. The following year, in 2002, President Bush awarded him the Leader of Gospel Industry Award. He was also the recipient of the 2002 Uplift Award by Congresswoman Sheila Jackson Lee on behalf of the United States Congress.

Continuing His Legacy

Even in his 85th year, Dr. Bobby Jones remains actively involved in gospel music. He continues to inspire and uplift through his timeless message of faith and his unwavering dedication to the gospel genre.

As we celebrate Dr. Bobby Jones's 85th birthday, we are reminded of the indelible mark he has left on the world of gospel music. His contributions extend far beyond the stage and screen, as he has played an instrumental role in shaping the genre and nurturing talent for decades. Happy birthday, Dr. Bobby Jones, and thank you for your enduring legacy of spreading joy, hope, and inspiration through gospel music!