John Boyega, Teyonah Parris Share Update About Jamie Foxx
Foxx's "They Cloned Tyrone" co-stars were upbeat about his health.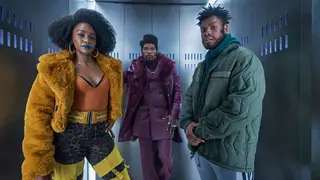 Jamie Foxx's co-stars of the highly-anticipated upcoming Netflix mystery They Cloned Tyrone, John Boyega and Teyonah Parris say that the beloved Academy Award-winning star is doing well since being sidelined with an undisclosed medical condition in April.
In a recent interview with ET Canada, Boyega and Parris were asked if they'd spoken to Foxx recently, Boyega replied, "Yeah. He's all good. He's all good. So we're just going to wait for him to reappear when he wants to. You know, privacy and all."
"Giving people space to heal how they need to do," Parris added.
Boyega also fondly shared how the 55-year-old actor and comedian entertained the cast and crew on the set, saying, "We got three stand up shows that you would normally pay $29.99 for. He gave us that for free, he played the piano, you know, sang some songs, all of that. I don't need to ever go to one of these shows again," he joked.
In a previous interview at the red carpet premiere of the film, Boyega said, "he gave the 55-year-old Hollywood veteran well wishes "directly."  He continued, "I gave him all the well wishes. So I'm just gonna be waiting until he comes back out here. So take your time, Jamie. We love you, bro."
Foxx has been reportedly recovering at the Shirley Ryan AbilityLab rehabilitation facility in Chicago that specializes in treatment for stroke, spinal injuries, and traumatic brain injury.
They Cloned Tyrone is a science fiction comedy mystery film directed by Juel Taylor in his feature film directorial debut. In the film, Boyega, Parris and Foxx (who also serves as producer) as an unlikely trio uncovering a government cloning conspiracy. David Alan Grier and Kiefer Sutherland also appear in supporting roles.
They Cloned Tyrone debuts Friday, July 21 on Netflix.