According To Pusha T, Drake's Best Friend Leaked This Information About His Son
SMH, fans are having a hard time wrapping their minds around this one.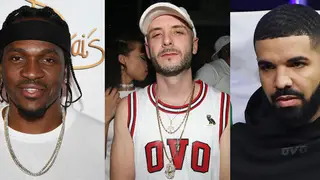 Just when hip-hop thought it learned all there was to know of Pusha T and Drake's vicious rap war (ceased by the courtesy of J. Prince), the Virginia-bred emcee proved everyone wrong.
For The Joe Budden Podcast's latest conversation, King Push dropped more details on the strain of his relationship with Drizzy. The dialogue comes after Drake's sit-down with NBA G.O.A.T. LeBron James on HBO's "The Shop," where he revealed that Kanye West snaked him out, insinuating that he was the culprit who leaked the private information about Drizzy's son to Pusha as well.
The Daytona rapper has a different story though, and he's clearing the good name of his GOOD Music founder and industry partner with a shocking exposé. As told by Pusha, Ye wasn't the little birdie from the GOOD Music squad that slipped out news of Drake's secret baby, but it was someone from Drizzy's own camp who did: OVO in-house producer and Drake's best friend, Noah "40" Shebib.
He started by clarifying his words in the 'Story of Adidon' Drake diss, which took aim at OVO 40's debilitating multiple sclerosis condition

Pusha explained that he never wished death on 40, despite popular opinion. While fans rallied in support of Drake's OVO Sound trustee amid the record, he also shared some information that might have those same fans side-eyeing him. "The information came from 40," he revealed of his source that led him to the discovery of Drake's child. "It didn't come from Kanye—at all. 40 is sleeping with a woman who begins to, you know, he talks to her daily, five to six hours a day, provides opportunity for her and ultimately speaks about how he's disgruntled about certain things."

He claimed that 40 would even vent to the woman about the OVO team's trips to go visit Drake's son while bearing gifts for the child. Pusha never explained his connection to the woman or why she spilled the information to him. But one thing's for sure, he added, Kanye was never the conspirator everyone else made him out to be in the situation. "You apologizing, what are you apologizing for, sir?" he said of Ye's apology to Drake after the smoke cleared from the beef. "You didn't give me nothing. You didn't give me anything in regards to aiding in this drama."

Now that the rap world has tuned in to Pusha T's tying up of one of the most controversial loose ends in the King Push versus 6 God controversy, they're kicking down Drake's bestie's door for more answers.

See their reactions to the allegations and his full conversation with Joe Budden, Rory, and Mal below.