NFL Hall Of Famer Shannon Sharpe Reveals He's A Prostate Cancer Survivor
Black men are more vulnerable to dying from the disease, according to the CDC.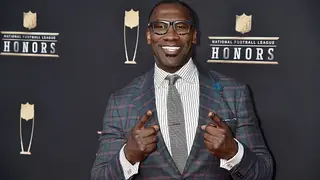 Retired NFL star Shannon Sharpe revealed on Fox NFL Sunday that he survived a prostate cancer diagnosis in 2016, adding that early detection may have saved his life.
"I am cancer-free right now," Sharpe, 54, said. "I feel so good."
Sharpe said his father and other close male relatives died at early ages from cancer, so he felt compelled to start getting screened early. He noted that Black men are particularly vulnerable to dying from prostate cancer, and that he had his first screening shortly after retiring from the NFL in 2003.
Research shows that Black men are more than twice as likely to die from the disease than other men, according to the Centers for Disease Control and Prevention. They tend to get prostate cancer at a younger age, and the disease is also at a more advanced stage when they're diagnosed.
"What I want to do now is break down the stigma – do not be afraid to go to the doctor. We need to give Black people more access to healthcare, and then once we get better access to healthcare, don't be afraid to go use it. Do not be afraid to just ask questions of your doctor. Do not be afraid to get screened because it could save your life," Sharpe said on air.
"Now they mentioned there's a 96% survival rate if you get screened and it gets detected early. I'm a part of that 96%," he continued. "See, I can speak this. I'm not a paid actor. I lived this. I've been there. I can tell you that this could save your life. Saved my life. I'm living proof."
The eight-time Denver Broncos and Baltimore Ravens Pro Bowler kept his diagnosis private. He came forward to discuss his condition because Janssen Biotech asked him to be part of a campaign to encourage men to get screened for prostate cancer.