Black Men Given Radiation For Prostate Cancer Do Better Than White Counterparts, Study Says
This is despite the fact that Black men seemed to have more aggressive disease when enrolled in clinical trials.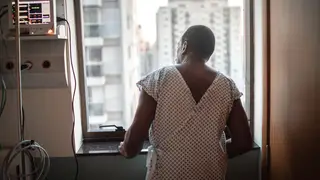 A new study finds that Black men given radiation therapy for prostate cancer respond better than white men.
The analysis published on Wednesday (December 29) by JAMA Network Open is based on data from seven clinical trials. It shows that Black men with prostate cancer and treated with radiation therapy were 12 percent less likely to experience cancer recurrence and 28 percent less likely to have their tumors metastasize, or spread, to distant organs compared with their white counterparts.
Additionally, Black men who received radiation therapy were 28 percent less likely to die from prostate cancer than White men given the same treatment.
The data is despite the fact that Black men seem to have a more aggressive form of the disease when they are enrolled in clinical trials of radiation.
"These results provide high-level evidence challenging the common belief that Black men who are diagnosed with prostate cancer will necessarily have a worse prognosis than White men," analysis co-author Dr. Amar Kishan said in a press release, according to UPI.
"This is especially important because an unfounded belief can inadvertently contribute to 'cancer injustice,' leading to the use of more aggressive treatments than might be necessary," Kishan added.
The American Cancer Society estimates that about one in eight men in the U.S. will be diagnosed with prostate cancer, or a tumor in the gland or the same name. There are also nearly 250,000 new cases of the disease annually, with Black men considered to be at increased risk.
Radiation therapy uses high-energy rays or particles to kill cancer cells and is often the first treatment used in men with prostate cancer. It preserves function in the gland, which plays a key role in urinary and sexual health.
All patients in the trials received either standard or high-dose radiation therapy, according to researchers. Of all the participants in the seven trials, 1,630 men self-identified as Black and 7,184 as white.