Prayers Up: Kirk Franklin Posts Heartbreaking Message About His Sister Being Sentenced To 30 Years In Prison
"Rough week," he wrote, in part.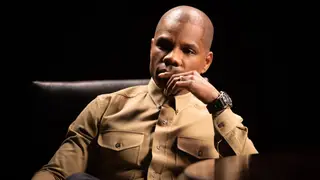 Kirk Franklin is revealing that his sister is slated to spend some serious time in prison.
"My sister was just sentenced to 30 years in prison…" he wrote and posted as a picture on the social media app. "I now feel the weight of wondering if I could've done more…"
It is uncertain as to what caused such a lengthy sentence for Franklin's sister. Previously, he's been open about the drama that surrounded her life, including her addiction to crack-cocaine.
"For over ten years, my younger sister was incarcerated in a facility here in Texas. She was in love with a young man who was drug dealer," he said in 2015. "He introduced her to not only selling drugs, but using as well. When he was arrested for drug trafficking, she was arrested along with him. After she served her time, she was brought before the review board who determined she was ready to be released and brought back into society. The documents were signed and she was set free… but only on paper."
"After a few months back into the free world, it became obvious to me rather quickly that my sister was still in prison," he continued. "It's what they call being institutionalized. She quickly started using again, becoming very reckless with her body, which turned into her using it as a means to pay for her habit."
Our thoughts are with Kirk Franklin and his family during this difficult time. We will provide more details about this story when details become available.