Nick Cannon's 'Who's Having My Baby?' Isn't What You Think It Is
The preview was part of an upcoming, yet-to-be announced project.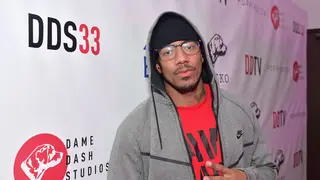 The concept seems kind of crazy, and that's because it's not really what it's billed to be. According to Variety, the advertised program is actually a gag created by Kevin Hart as a sketch for an upcoming, not-yet-announced project.
On Tuesday (March 7), Cannon took to his Twitter account to claim he would be starring in E!'s Who's Having My Baby? and shared the teaser of it, which remember is a sketch, not a show.
Hosted by Hart, the fake show would appear to be a competition between single women eager to give birth to Cannon's next child. The comedian has a history of poking fun at Cannon over his large family. In December 2020, he rented a Los Angeles billboard reading, "For any advice on fatherhood? Call my best friend Nick Cannon."
Instead, this whole thing is an advertising stunt which insiders, Variety reports, confirm also isn't related to Hart's E! game show Celebrity Game Face, which he executive produces and hosts. Rather, it's an entirely new project created by Hart.
Currently, Kevin Hart hosts Celebrity Game Face, as well as the Peacock interview series Hart to Heart and at the end of the year, he hosted 2022 Back That Year Up, along with Kenan Thompson.
Cannon is the host of The Masked Singer and a well-known actor. He has 12 kids with a total of six women, including Bre Tiesi, Mariah Carey, Brittany Bell, LaNisha Cole, Alyssa Scott, and  Abby De La Rosa.