Former North Carolina NAACP President Rev. Anthony Spearman Died By Suicide
The 71-year-old was found dead in his home.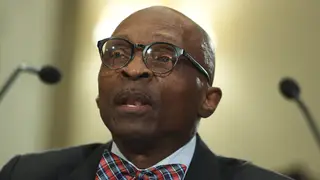 The death of Rev. Dr. T. Anthony Spearman, a prominent civil rights leader and the former president of the North Carolina chapter of the NAACP, has been ruled a suicide by the state medical examiner's office.
According to WRAL, Spearman, 71, was found dead on July 19, 2022, in his Greensboro, North Carolina, hom. An autopsy report revealed he died of a self-inflicted gunshot to his right temple. A .32-caliber handgun was also found.
Back in July, Rev. Dr. William J. Barber II, another former North Carolina NAACP president, said, "I have lost a true brother in the struggle. North Carolina and the nation have lost a champion of justice and a beloved public servant. We have all lost a freedom fighter, a man deeply committed to justice, and a man of true faith."
Spearman served as president of the North Carolina chapter of the NAACP from 2017 to 2021 and had been a vocal critic of issues such as police brutality, voter suppression, anti-LGBT policies, and systemic racism. However, he sued NAACP officials accusing them of defamation and conspiracy to remove him from the presidency, WRAL reports. NAACP officials accused Spearman of misappropriating association funds, which he denied.
Rev. Dr. T. Anthony Spearman is survived by his wife Janice Spearman and three children.
If you or someone you know is in crisis, there is assistance available from the
The National Suicide Prevention Hotline fields calls 24/7 for anyone with suicidal thoughts or who are in crisis. It offers help for Spanish-speakers and anyone who is deaf or hard of hearing.