Watch T.I. Accuse Tiny of Cheating With Floyd Mayweather
The two go at it over dinner.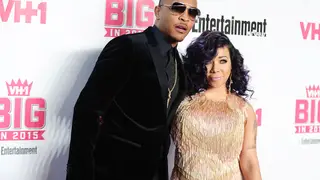 T.I. and Tiny's marriage continues to fall apart before our eyes on the final season of their VH1 reality show, T.I. & Tiny: The Family Hustle.
In the most recent episode, T.I. boldly accuses Tiny of cheating with his nemesis Floyd Mayweather, and, in the process, seemed to try to justify his infidelities as well.
After confronting him for calling their marriage a "distraction" in the previous episode, the Xscape member sat down with her estranged husband to discuss the many reported infidelities that have plagued their marriage.
While at dinner, however, T.I. turns the table on Tiny, accusing her of cheating with the boxing champ, all while she reminds him that he cheated on her with "someone she hired."
It all started when the rapper told her that she left and "got a house somewhere else."
"Because you started cheating. Yes, sir," she responded. "For those who don't understand, Tip had some infidelities with a girl who I hired and that girl is one of the reasons why I got my own house... I ain't intertwining my soul with no f**kin' body. It's totally different from what you're doing."
Tip then fired back, mentioning that she visited the house of someone he "doesn't f**k with." Though he does not mention his name, photos showed that Tiny attended a party at Mayweather's home, and even shared a dance with him. While she admitted to being there, she remained adamant that she did not sleep with him.
"You done had yo' s**t where you was out with this motherf**kin' dude you know I don't f**k with," T.I. said. When he pointed out that he knew she was "in his house," Tiny fired back with a direct response.
"When? We wasn't together! Don't speak on it as though you know what you're talking about, like, 'I know 100 percent she slept with [bleep],'" she said. "How do you know that? 'Cause you seen me dancing? You don't know... If he can come and treat me like a woman..."
The rapper then hit his wife with the line, "I spent millions on you, what the f**k are you saying?"
Take a look at the heated clip below:
See how Tiny feels about her estranged husband in the BET Breaks video, above.