Michelle Obama Announces New Book
'The Light We Carry: Overcoming in Uncertain Times' is scheduled for release in November.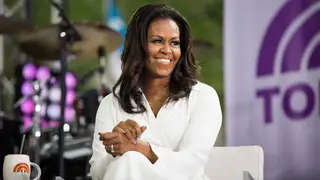 Michelle Obama announced on Thursday (July 21) that she has been penning a new book titled The Light We Carry: Overcoming in Uncertain Times is slated for release on Nov. 15.
"Like so many of you, I've spent a lot of time these past few years thinking about how to keep myself centered in a world filled with so much uncertainty. That process of reflection actually led me to start writing again," the former first lady stated in an Instagram post.
In her IG video, Obama says she's felt "vulnerable at times" in the face of a global pandemic, the Jan. 6 insurrection and the rising tide of hate and bigotry. Her new book is the result of her reflections on how to overcome fear and channel frustration into something positive.
The Light We Carry is a collection of stories and practices Obama used to "sort through all the challenges and questions that keep us up at night."
This is Obama's second book. Her memoir, Becoming, released in 2018, was a blockbuster hit, selling more than 17 million copies worldwide, according to the Associated Press.
Indeed, Becoming was an immediate success. It racked up more than 10 million sales worldwide in less than five months of release. It has outsold the memoir of any previous first lady or modern president, including her husband President Barack Obama's 1995 memoir Dreams From My Father and 2006 campaign book The Audacity of Hope.
"I never thought I would be the author of one book, let alone two," Obama said. "But I've found that writing this has been a way for me to gather my thoughts and find more clarity during this time."
Markus Dohle, CEO of Penguin Random House under which the book will be released, said, "Penguin Random House is honored to partner once again with Michelle Obama and to help bring her powerful storytelling and earned wisdom to readers everywhere."
He continued, "I am confident that her new book will provide all of us with some urgently needed reassurance while rekindling a spirit of optimism about the power we all hold to positively shape our personal and collective futures."