NLE Choppa And GF Marrisa Da'Nae Reveal Miscarriage
"Losing our son is so hard for me," Marissa writes in an IG post, where she thanks NLE Choppa for staying by her side.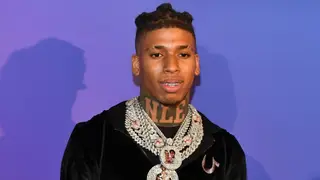 Memphis rapper NLE Choppa and girlfriend Marissa Da'Nae on Saturday (March 5), shared the devastating news of losing their unborn child to a miscarriage.
Marissa, 21, posted a 45-minute YouTube video about their late son, Seven, and the pregnancy journey.
Almost six months pregnant, Marissa learned from the doctor that Seven was not at birth weight. According to WebMD, by the sixth month, the baby should be up to one pound. Weighing in at two ounces, the fetus was diagnosed with fetal growth restriction (FGR), the couple said.
"Talking bout this is so hard," she writes in an Instagram post. "But with Bryson next to me and being my supporter, this has helped me more. Losing our Son is so hard for me, I couldn't function. But he has pulled me through and I'm thankful to have you by my side and with me along this journey."
Marrisa said the doctor suggested trying to see if Seven could reach two pounds and have an early birth, remaining in an incubator until he reached a healthy weight. But that was not to be. According to WebMD, fetal growth restriction (FGR) is a condition in which the unborn baby is smaller than expected and growth within the wound is not occurring at a normal rate.
Marissa took to her Instagram to share more transparent feelings surrounding the miscarriage, her overall growth, and NLE's (real name, Bryson) support.
NLE also took to social media to bid farewell to his son.
Watch the couple's video below: