Ebola Fighters Named Time 's Person of the Year
The caregivers who worked tirelessly to combat the epidemic are honored on Time magazine's end-of-year cover.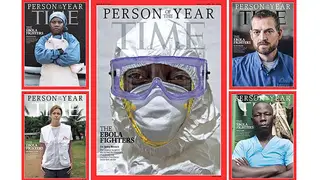 The medical practitioners who worked tirelessly to combat the largest epidemic of Ebola in human history are honored as Time magazine's Person of the Year. This year saw 17,834 reported cases and 6,346 deaths from the disease, according to the Centers for Disease Control. 
In March 2014, the virus broke out in Guinea and later spread to Sierra Leone and Liberia, a country that was hit the hardest with 3,177 deaths. Over the course of several months, Ebola reached Nigeria, Mali, Spain and the U.S. 
Time writes: 
Ebola is a war, and a warning. The global health system is nowhere close to strong enough to keep us safe from infectious disease, and "us" means everyone, not just those in faraway places where this is one threat among many that claim lives every day. The rest of the world can sleep at night because a group of men and women are willing to stand and fight. For tireless acts of courage and mercy, for buying the world time to boost its defenses, for risking, for persisting, for sacrificing and saving, the Ebola fighters are Time's 2014 Person of the Year.

Read the full story here.
Follow Natelege Whaley on Twitter: @Natelege_
BET Global News - Your source for Black news from around the world, including international politics, health and human rights, the latest celebrity news and more. Click here to subscribe to our newsletter.