Trifling! Reality Star Mandy Rose Insults a Black Woman's Hair on a Plane
Twitter goes nuclear.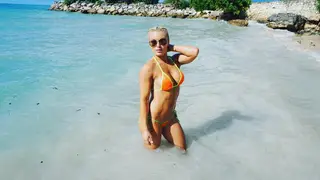 File this one under: Girl, Bye.
Total Divas reality star Mandy Rose is under fire from social media after posting a Snapchat mocking a Black woman's hair on an airplane — while wearing her own hair in cornrows.
According to Rose's Snap story, it was the "third time today" that she was inconvenienced by natural hair, even though it is clear in the image that the Afro isn't blocking Rose's view or disrupting her business in any way:
Twitter, rightfully, is not letting this one slide:
See how South African students dealt with their school's racist hair policy in the video above.