Refugee Recruitment by Modeling Agencies Alleged by Investigation
It's reported that young people from impoverished African countries are sent to Europe for casting and, if deemed unsuccessful, returned and are in debt.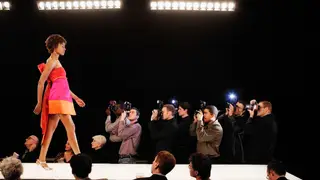 The lack of diversity on runways has been discussed for years.
Recently, the Sunday Times investigated the possible exploitation of models by agencies and talent scouts who promise them a better future. The outlet interviewed numerous models and explored how modeling agencies attract young individuals from impoverished African nations, promising them a better future.
A number of aspiring models from the Kakuma refugee camp in northwestern Turkana County, Kenya, are at the center of this investigation.
The United Nations High Commissioner for Refugees (UNHCR) established the camp in 1992. It relocates displaced people, mainly from Sudan and Ethiopia, and is governed by the Department of Refugee Affairs since adopting the Kenya Refugee Act in 2006.
Models who pass the initial recruitment stage receive a government-approved work permit to leave the refugee camp, proceeding to Nairobi. Once they get there, they get a passport and visa and are sent to Europe, where they are provided with accommodations and a weekly allowance of € 70-100 for expenses.
However, if they fail to secure sufficient paid work or are deemed unfit, they return to Kenya. This process leads to challenges, with many models returning to the camp due to being considered too malnourished or inexperienced, as reported by the Sunday Times.
They are usually reportedly saddled with thousands of euros of debt to the agencies who allegedly didn't live up to their promises.
"I worked hard but came back with no money. A lot of people think I have money because I went to Europe — I say I have nothing," South Sudanese model Alcol Malaul Jau, 23, shared with the Sunday Times. The aspiring model practiced walking in heels back at her refugee camp before her first catwalk show in February, which she described as "amazing."
Fast forward nearly six months, and Jau was back in the hut she shared with her family. Upon returning home, she received a balance sheet from her trip to Europe showing a debt of about €3,000.
The agency that enlisted Select Model Management alleged that client feedback on Jau had been less favorable.
The agency's chief executive, Matteo Puglisi, said in a statement, "We lost thousands of euros on her. We have never asked for reimbursement. I am truly sorry she didn't succeed. It wasn't for the want of trying on our behalf."
Puglisi also stated that issuing models with debt statements is a "fiscal obligation." He emphasized that while the agency requests reimbursement twice, they refrain from a third attempt and never resort to hiring lawyers to recover the money.
The investigation revealed that Nigerian businesswoman Joan Okorodudu, also known as Mama or Auntie Joan, signed models to her agency, Isis Models, and then marketed them to larger agencies like Select Model Management.
The outlet also stated that after one model, Biliny Manyang asked to leave Isis Models, "she claimed Okorodudu told contacts in the modelling industry not to work with her or she would withdraw other models."
In the report, Okorodudu responded, "I am the only person in the industry who takes care of these models financially and assists their families. Modelling and helping the youth is my passion."
Some models took to social media to defend Mama Joan with captions like, "Joan has been doing everything for love."
There are also individuals like Rejoice Chuol, 18, a Kakuma native now residing in London, and Sudanese model and former refugee Mari Malek. This year, Chuol walked the runway for Dolce & Gabbana at Milan Fashion Week and appeared in a magazine ad for H&M. "I want to be an ambassador for my country," Chuol told The Times.
Malek is setting up Runways to Freedom, a group to support refugees working in the industry. "South Sudanese refugee models are the it girls, and I believe it is due to the fact the diversity and inclusion movement in the fashion industry has skyrocketed demand from people asking for more representation."
She continued, "African models, dark-skin models, black models, and especially South Sudanese models — who are renowned for their striking beauty and powerful look."
Puglisi also stated, "Bringing a model like Rejoice to the top level is really gratifying for us all at Select, because we felt we did more to improve a world by improving the life of Rejoice . . . than if we brought a multimillionaire like Kendall Jenner to the same level. For the most, their families are no longer hungry."
He continued to say that using models from the African refugee camp improved the diversity of fashion shows. Puglisi wrote in a statement, "Do you want to go back to all-white fashion shows?"