Commentary: What Is Worsening the HIV/AIDS Epidemic in Black America?
Why are Blacks so highly impacted by HIV and AIDS compared to whites?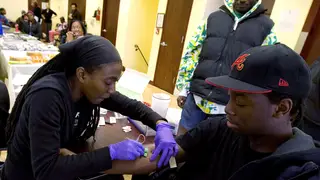 For over a decade, thanks to J.L King, Oprah Winfrey, Terri McMillan and a slew of media reports, we have been made to believe that the down-low brotha' — a sinister man who secretly has sex with men, but doesn't tell his female partners — has been the major force behind the reasons why AIDS is the number-one killer among African-American women ages 25-34.
First, I want to be clear that our epidemic is not a symbol of Black people behaving more promiscuously and not using condoms as much compared to people of other races. This is not happening because we are bad or immoral.
In contrast, past studies have shown Black people are more likely to get tested for HIV than anyone else and report fewer risk factors than our white counterparts. Remember, everyone has sex and, in all communities, there are people who are IV drug users.
But HIV/AIDS is a disease that "flourishes" in communities that are the most vulnerable; those most fragmented and that have the least amount of power in society. And this community is ours.
So many of us lack access to quality health care; we have poor access to health care in general, and we have a serious history of mistrust in the medical system. Why go to the doctor and get tested for HIV or any other diseases if you don't trust what they are telling you?
This disconnect with healthcare access plays into why our communities are infested with poor health and untreated chronic diseases. Now bring in the rates of untreated sexually transmitted diseases, such as herpes and gonorrhea, which make people more vulnerable to contracting HIV, and you can only see how this is all has a trickle-down effect. 
Also, we have people in our community who are completely unaware that they are positive, who are not on treatment and are having unprotected sex while being highly infectious. This is why getting tested and starting treatment is crucial in stopping this epidemic.
Other issues, such as disproportionate rates of poverty and high unemployment rates, gender inequality and domestic violence that make it difficult for women to demand condom use, stigma and homophobia, and IV drug use, all have a hand in our AIDS crisis. 
But, most importantly, we cannot forget the high rates of incarceration in our community.
While there seems to be this widespread belief that Black men are going to prison and having sex with men and then bringing HIV back into the community, this isn't necessarily true. What mass incarceration of Black men does is take available men out of the community, leaving a gender-ratio imbalance. Translation: Black women in their communities are sharing the same male partner. And if everyone involved is not getting tested, not using condoms consistently, and/or is infected with HIV/AIDS and other STDs, this is how the epidemic worsens.
Unfortunately, we cannot wave a magic wand and make all of these things just disappear — this is going to take generations of advocacy and activism to change. But that doesn't mean there is nothing that we can do in the present.
If we really understand that our community has higher rates of HIV, this means we have to be smarter about the sex that we are having, because we are more likely to be exposed to the virus when having sex. And that means we have to be even more vigilant with our condom use and get tested more consistently and more often if we hope to change the course of this epidemic.
To read more about factors that fuel HIV/AIDS among African-Americans, go here.
The opinions expressed here do not necessarily reflect those of BET Networks.
BET Health News - We go beyond the music and entertainment world to bring you important medical information and health-related tips of special relevance to Blacks in the U.S. and around the world.
(Photo: Stephen Chernin/Getty Images)