The LOX Announce New Album, 'Living Off Xperience'
A track featuring DMX will be on the release.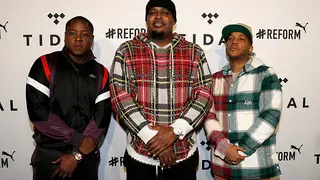 In an announcement that is sure to excite hip hop heads, legendary rap group The LOX has revealed that they will drop an album at the end of this month on August 28, titled Living Off Xperience.
"Y'all asked for it, well here it is. Living Off Xperience the 4th Studio Album from The LOX coming 8/28," the group's official Instagram page shared.

Earlier this year, the hip hop trio dropped off two new singles, "Loyalty & Love" and "Gave it To Em" earlier this year, both of which will be on the new album.
Fellow Yonkers rapper DMX makes an appearance on the release as well. He will appear on an upcoming single, "Bout S**t," which is slated to drop on August 19, one week ahead of the album's release. In addition to the singles, Living Off Xperience features production from AraabMuzik, Scott Storch and Large Professor.
According to a press statement, the album will showcase "the group's signature gritty sound with the unrivaled lyricism that gets right to the heart of the battles we continue to fight on," while promising "an inside look into" Sheek Louch, Styles P, and Jadakiss' "brotherhood, their growth from teenagers to men, and how they've stood the test of time together."


RELATED: Ruff Ryders Chronicles: How The Notorious Label Rose To Stardom
This will mark the group's first album in four years since 2016's Filthy America...It's Beautiful, and, alongside the album, they are launching a limited-series podcast of the same title on Vevo on August 13.
The LOX are also featured in BET's docuseries Ruff Ryders Chronicles, which premiered last night (August 12).