Barack Obama Leads Congratulations After Coco Gauff Wins U.S. Open
Gauff won her first Grand Slam Title at 19 years old on September 9.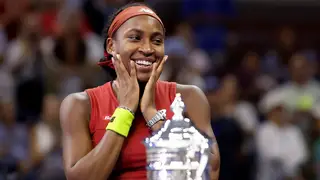 On social media, Obama expressed his excitement about Gauff's stunning win.
"Congratulations to US Open champion, @CocoGauff! We couldn't be prouder of you on and off the court - and we know the best is yet to come," Barack Obama shared on X, formerly Twitter.
"So proud of you, @CocoGauff! Your hard work and grit was on display throughout this tournament. This is your moment!" Michelle Obama added in a tweet.
With a masterful performance, Gauff defeated Aryna Sabalenka of Belarus,  who is currently ranked as the number one ranked player in women's tennis, in three sets, 2-6, 6-3, 6-2.
In the post-game interview, Gauff spoke about how the naysayers fueled her to compete at a high level.
"Honestly, thank you to the people who didn't believe in me. A month ago, I won a 500 title, and people said I would stop at that. Two weeks ago, I won a 1000 title, and people were saying that was the biggest it was gonna get," Gauff said.
"Three weeks later I'm with this trophy right now. I tried my best to carry this with grace, and I've been doing my best. Honestly, to those who thought they were putting water on my fire, you were really adding gas to it. And I'm now I'm really burning so bright right now," Gauff said to a thunderous applause from the capacity crowd.
Last month, the Obamas were in attendance for Gauff's first-round victory over Laura Siegemund of Germany and they gave the tennis phenom encouragement following the match. Gauff had an exchange with a line judge about her opponent slowing the game down.
"I didn't see them in the presidential box," Gauff said about the Obamas. "I was obviously looking at that, but they weren't, I guess, in my eyeline. But afterward, they told me they wanted to say hi."
Not only was Gauff surprised to meet the Obamas but she appreciated the advice that they gave her.
" I think I'm going to never forget that moment for the rest of my life. I went from being really upset after a win to, like, being really happy," she continued. "So I'm glad I got to meet them. They gave me some good advice, too."
Gauff went on to say that Michelle Obama told her that "it's good to speak up for myself. I think she was happy that I spoke up for myself today."
After capturing her first Grand Slam Title at 19 years old, Gauff became the youngest to win the tournament since Serena Williams won the U.S. Open at 17 years of age in 1999.