Solange Covers Complex
Younger Knowles releases Kendrick Lamar track, announces new label deal.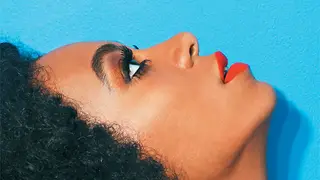 (Photo: Complex Magazine, June/July 2013)

Solange nabbed the cover of Complex magazine's June/July issue, and inside, she details why she's ready to be a powerhouse entrepreneur — just like her parents — and head up her own label with a new deal with Sony that she announced via Twitter earlier today.
"I wanted to make all of the creative artistic decisions but I wasn't the one paying for it. And they didn't fully trust me to make them," she said of her last deal as an artist signed to Interscope-Geffen-A&M. "Every decision was a battle. It was exhausting ... I knew that meant I had to leave and that I had to struggle."
Before that, she had been signed to Columbia, where, for years, Beyoncé has held top billing.
Now, free of both, Solange has been happy to hustle up frequent flier miiles in order to take a crew to South Africa to shoot a video, and to live with her producer — and her boyfriend and son — to work on new music.
"Everything that happened on this record was literally waking up, him [Dev Hynes (The Chemical Brothers, Florence and the Machine, Sky Ferreira)] usually before me, going and creating the bones to the track and then me rolling over and hearing it while I'm fixing breakfast. When you're making music like that, where it's a natural extension of your day, it's so much more enjoyable,"
She didn't mention when the album will be coming out, though. She's also content not to have any corporate-set deadlines. "It's just about putting the music out when it's ready. When I wake up in the morning, I get dressed for myself, I listen to what I wanna listen to, I make decisions for me. It's been interesting to navigate that from such a young age so publicly. But life is short and you have to live for you."
For example, her Kendrick Lamar collab, "Looks Good With Trouble," she explained, was a prelude to her "Bad Girls" [from last year's, True EP], but she was inspired to expand it and "add the beautiful storytelling" of the West side emcee. And so, she got it done.