Here's Why Stephen A. Smith Thinks Kevin Durant Has Gotten 'More Arrogant and Disrespectful'
These two definitely have a personal history.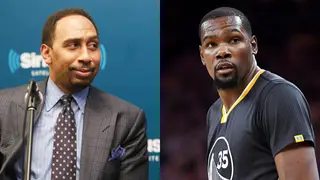 On yesterday's episode of ESPN's First Take, the sports personality labeled the Golden State Warriors' All-Star forward as being "more arrogant" and "more disrespectful."
Why? Well, Stephen A. took issue with KD telling fans "if you don't like it, don't watch it," when asked about the NBA playoffs' lopsided series following the Warriors' Game 3 victory over the San Antonio Spurs on Saturday and before their Western Conference Finals sweep last night.
The NBA playoffs have been lopsided this year, with the Warriors punching their spot in the Finals with a 12-0 record and the Cleveland Cavaliers having only suffered one loss, being two victories away from reaching the Finals themselves.
But Stephen A. wasn't having KD's words to fans.
"He's aged and along the process of aging, he's gotten more arrogant, he's gotten more disrespectful, he's gotten more dismissive — particularly of the fans," Smith said about KD. "To be quite honest with you, he hasn't gotten smarter. And the reason why he hasn't gotten smarter is because the younger Durant never would have said something so flagrantly disrespectful towards fans."
Durant did issue an apology — well, somewhat of an apology — to fans Monday after yesterday's First Take episode.
"I mean, life can be simple, man," Durant told ESPN. "If you don't like the way the game is going, just turn it off. If you're enjoying it, just keep it on. Life is simple. I didn't mean it to disrespect anybody, but if you felt disrespected, I'm sorry. But if you don't enjoy the game, turn it off [and] turn something else on. If you do, enjoy the rest of it, man."
But after hearing KD's statement, Smith stood his ground during today's First Take episode and continued to call the former NBA MVP "disrespectful," adding that "the paying customer matters" and that Durant is "misinformed."
Welp. Smith has always vouched for Durant's exceptional hoop skills, but there's no denying that the two have what seems to be a growing personal history. 
About two years ago, KD dismissed a Smith report saying the forward was considering a move to the Los Angeles Lakers. And Smith fired back, threatening the NBA superstar with, "You don't want to make an enemy out of me. And I am looking right at the camera."
Then, last summer, when Durant announced that he's leaving Oklahoma City to sign with the Warriors as a free agent, Smith called it the "weakest move I've ever seen from a superstar."
This latest jab only adds to their personal history.
Is Smith's criticism of KD warranted or did the ESPN personality blow this completely out of proportion?
BET Sports News — Get the latest news and information about African-Americans in sports, including weekly recaps, celebrity news and photos of your favorite Black athletes.