Cyn Santana Explains Why Leaving Joe Budden Was The 'Best Decision' She's Ever Made
The two split just four months after getting engaged.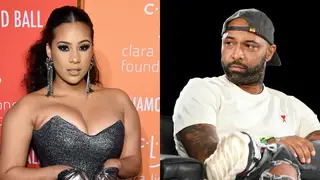 Cyn Santana and Joe Budden split in the spring of 2019 after dating for almost three years and being engaged for four months (they also have a son who is nearly two years old). In a new interview with reality TV OG Tiffany "New York" Pollard, Cyn explains why leaving her public relationship with Budden was the "best decision" she's made in her life.
Santana, 26, explained on Pollard's Brunch With Tiffany show that their split was not a mutual decision, specifying that she dumped the 39-year-old rapper and host to protect herself.
"We didn't decide on anything. I did what was best for my mental health, my peace and for me and my son, you know what I mean?" she said, referencing their child, Lexington, born in December 2017. "It was a decision that I had to make on my own. This wasn't a unison thing. How can I keep this very sweet? Basically, let's just say that I'm probably the happiest I've ever been and that was probably the best decision that I've made in my entire life. In the 26 years I have of living on this earth, the best decision I made was leaving that relationship. And my son and I are amazing."
Proving that she is fully done with the relationship, the former Love & Hip Hop star said she's actually ready to date again.
"I like being wined and dined," she said while sharing what she likes in a man. "I love talking. I love getting into people. I'm a foodie, you've got to feed me. That's happening."
Take a look at the full clip, below:
As previously reported, Cyn opened up about struggling with depression in the past, and claimed Budden was not the most supportive. During an episode of Love & Hip Hop: New York, she told him he was "dismissive as f**k" about her feelings, leading her to feel like it was likely best for her to move on.
Shortly after Cyn announced their split on social media, Budden admitted that they "hadn't spoken in a while," but claimed they "didn't break up."
"What that means is none of us said it's over," he said. "Now, with that said, we haven't spoken in a lil while. Her phone's been dead for a few weeks. Overtime at work, plenty of reasons I can think of.