Blake Griffin Charged With Battery in Las Vegas Club Incident
Los Angeles Clippers power forward accused of slapping man last month.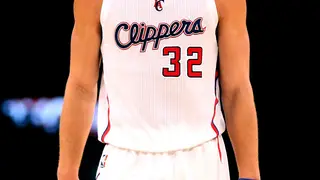 Blake Griffin was charged with misdemeanor battery Wednesday over a Las Vegas nightclub incident last month.
The Clark County District Attorney's office told ESPN that the Los Angeles Clippers' power forward "wilfully and unlawfully used force or violence" against Daniel Schuman on October 19, allegedly squeezing his hand and shoulder and/or slapping his face. Griffin was allegedly upset by Schuman's cellphone camera flash.
Griffin's Clippers teammates Chris Paul and DeAndre Jordan were reportedly with him the night of the 19. The organization is standing by their star all the way.
"I trust Blake 100 percent. He's a great kid. We'll figure it out and get through it. I can't say much, but I feel very confident things will work out," Clippers coach Doc Rivers told ESPN.
Griffin doesn't have any prior incidents on his record. If convicted, Griffin's maximum penalty could be six months in jail and/or a $1,000 fine. Griffin, 25, is averaging 24.3 points and nearly seven rebounds per game for the Clippers this season. They'll host the Phoenix Suns on Saturday night at the Staples Center. 
Click here to enter the Beyond the Lights sweepstakes and win an all-expense paid trip to Black Girls Rock!
BET Sports News - Get the latest news and information about African-Americans in sports including weekly recaps, celebrity news and photos of your favorite Black athletes. Click here to subscribe to our newsletter. 
(Photo: Stephen Dunn/Getty Images)