Boil Water Notice Lifted For Jackson -- After 40 Days
Mississippi's governor trumpeted the progress but warned that it might not be permanent.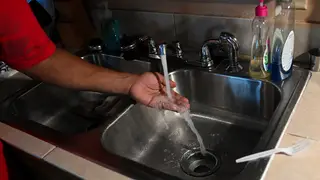 It's been more than 40 days since Jackson, Miss. residents had safe water flowing from their faucets. On Aug. 29, the water stopped flowing all together for several days after flooding at one of two water-treatment plants caused more damage.
On Thursday (Sept. 15), Gov. Tate Reeves announced the end of the boil-water advisory, stating that "we have restored clean water to the city of Jackson" after state health officials collected 120 water samples for testing on two consecutive days.
"Since the state of Mississippi stepped in to fix Jackson's water system, we've significantly increased the quantity of water produced, restored water pressure to the city, installed an emergency rental pump, fixed and reinstalled broken parts on-site, and monitored and tested water quality.We can now announce that we have restored clean water to the city of Jackson," Tate said in a statement.
Speaking at a press conference Thursday, Tate added that "it's very important that we set expectations up front," WLBT reported.
"While we have restored water quality, this system is still imperfect. And we are going to address issues throughout the duration of the state's response," the governor continued. "It is possible. Although I pray not inevitable, there will be further interruptions. We cannot perfectly predict what may go wrong with such a broken system in the future."
Following the Pearl River flooding in late August, Jackson mayor Chokwe Antar Lumumba said long-overdue maintenance and short staffing have for years plagued the city's water system, which was overwhelmed by flooding from heavy rainfall that changed the chemical composition needed for treatment.
Jackson's population is about 83 percent Black, according to the U.S. Census Bureau. For decades, city officials couldn't afford to make timely repairs to the water system as the tax base eroded from white flight to the suburbs when public school integration started in 1970. Today, about 25 percent of the residents live in poverty.
On Sunday (Sept. 11) the U.S. The Environmental Protection Agency confirmed to CNN that the agency is investigating the water crisis. EPA Administrator Michael Regan, the first African-American in the role, has met with city and state officials about the water crisis. In 2020, Jackson failed an EPA inspection.