Attorney General Decries 'Senseless' Violence in Baltimore
Loretta Lynch calls recent riots "senseless acts of violence" that symbolize the national debate on race relations and law enforcement.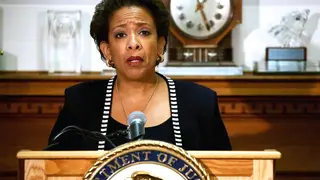 WASHINGTON (AP) — Attorney General Loretta Lynch on Wednesday called the rioting in Baltimore "senseless acts of violence" that were counterproductive to improving relationships between the police and community.
In her first public remarks on the unrest since being sworn in two days ago, Lynch said the city could in some ways be seen as a symbol of the national debate on race relations and law enforcement.
"But," she added, "I'd ask that we remember that Baltimore is more than just a symbol. Baltimore is a city. It is a great city. It is a beautiful city."
She said it was a city that police were trying to protect and peaceful protesters were trying to improve, all while "struggling to balance great expectations and need with limited resources."
Lynch, the former federal prosecutor for parts of New York City, was sworn in Monday to replace Eric Holder, becoming the first African-American woman to serve as the nation's top law enforcement official.
She spoke about the situation in Baltimore at the start of a cybersecurity summit Wednesday at the Justice Department.
The rioting in the city began hours after the funeral for Freddie Gray, a 25-year-old black man who suffered severe spinal injuries in police custody. The FBI and Justice Department have been investigating the death for potential civil rights violations. Lynch said she had been in contact with officials in Maryland to offer whatever federal support was needed.
The Justice Department is also conducting a separate voluntary review of the Baltimore police department's use of force practices.
The police department last year requested that review, which is run by the Justice Department's Community Oriented Policing Services branch, after several cases involving physical force by officers resulted in public outcry and millions of dollars in legal settlements. The Justice Department has said it expects to announce results of that investigation in the coming weeks.
BET Politics - Your source for the latest news, photos and videos illuminating key issues and personalities in African-American political life, plus commentary from some of our liveliest voices.  Click here to subscribe to our newsletter.  

(Photo: Mark Wilson/Getty Images)