#HeyMsDJ: DJ Kiss Is An A-List DJ For Whatever A-List Event You Can Throw At Her
The prominent spinner tells BET about her most legendary experiences, which she hopes to use as inspiration in a new limited series.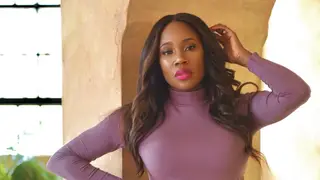 For Women's History Month, BET.com is highlighting some of the best women DJs on the 1s and 2s.
DJ Kiss has been getting the party started for some of the highest-profile events and celebrities for a good portion of the past two decades.
By way of Baton Rouge, Louisiana, Kiss, born JaKissa Taylor-Semple, became a mainstay in New York City and was able to experience nightlife there during the early 2000s when the Big Apple was still the hip-hop force to be reckoned with. She describes it as the era of Jay-Z being in one section while Puffy and J-Lo were in another and it was around this time that she learned to DJ, which has since been her life's purpose.
For years now, DJ Kiss has been one of the most in-demand party navigators for any event with A-list celebrities on the guest list. Whether it's DJing Angela Bassett's 60th birthday party or Matt Damon's vow renewal, she's a certified expert at reading the room and providing the vibes accordingly.
"When you DJ [an event] for anyone, but also a celebrity, [it's] one of their memorable moments – whether it's a birthday party, or their wedding, you become a part of their memory," Kiss told BET during a recent interview. "So they really are fond of you because of what you contributed to that celebration."
Even before Kiss knew DJing was her calling, there weren't too many female DJs for her to look to as an example. The ones that were rocking behind the 1s and 2s at the time though were incredible.
"Just the visibility of seeing this woman do it was a seed planted in my head that, Oh, this can be done, this is an option for you," Kiss explains. "You don't know that you can do something you don't even know is an option to you until you kind of see someone that looks like you doing it."
Since her start, DJ Kiss has been able to make a career out of one incredible experience after another. In 2014, she was tapped as Oprah Winfrey's DJ for her The Life You Want tour, which involved several speaking engagements the entertainment mogul put on across America.
"It was such an incredible experience. I had personally never done a stadium like that, like these were huge stadiums. And so my job was to play fun and uplifting music to get the crowd really in the spirit to hear the message because it was an all-day convention," she explains. "She brought Iyanla Vanzant, Deepak Chopra, and Elizabeth Gilbert all on this tour with her. And each of the speakers would speak and give the audience tips on empowering themselves and healing themselves."
The more private events Kiss has DJ'd are no less legendary either as she's provided the music for Prince on multiple occasions, including the release party for his last final albums HITnRUN Phase One and Phase Two and an unofficial Madonna concert afterparty.
More recently, Kiss has DJ'd afterparties for both the Grammys and Oscars, both Black Panther movie premieres, and so much more. Now living in Los Angeles, her main focus has been being one of the city's go-tos for any unique event. She says that being a great DJ involves both having great taste in music, but also, being able to select the right records at the right time to keep the party going.
"You have to be able to make adjustments on the fly, and that's where the skill of reading the room comes in," she explains. "I need to be able to look at these people and see, are they bobbing their heads? Do they know this record? Are they sitting down? You can tell by people's body language if they're having a good time.
"You have to be very sensitive to energy," Kiss adds. "And if what you're playing is not working, you need to hit them with some s**t until you figure out what they want to hear."
In 2023, Kiss is looking to use the story of meeting her husband as inspiration in an in-the-works coming-of-age drama series about DJing in and experiencing New York City during the early-to-mid 2000s.
Tentatively titled Heartbeat, the Landmark Studio Group 10-episode project will be loosely based on the couple's own rise to celebrity DJ status and the love story that evolved during their ascension. It's something Kiss says exemplifies couple goals.
"I was a waitress, he was the DJ, [and it's about] how we connected over our love of music, how we fell in love and became a couple," she says of the project, noting that the two met at a New York nightclub. "But also [how we became] business partners. We helped each other: he taught me how to DJ, I came from a corporate background. So I was able to show him how to package himself better. Together, with our two skill sets and helping each other out, we were able to be really successful."
Marrying fellow turntablist DJ M.O.S. early on in her career, the DJ duo's story is one made for Hollywood. Whenever the series drops, it will provide a full-circle moment, taking the duo from the usual background at events to the foreground on television.
"I'm really taking this project on not only just for my own personal legacy, but to really document that era. We have to start doing it and it's time to really start telling those stories," Kiss says. "So I'm really focused on that. I have a couple of other little projects, but that's my main focus right now."