#HeyMsDJ: DJ Eque's Career Is Coming Full Circle At Just The Right Time
The Houston-born turntablist discusses her come-up, being mentored by DJ Screw, and her new shift into production.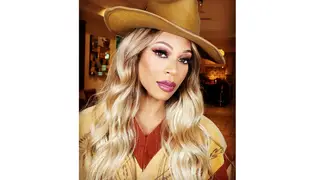 For Women's History Month, BET.com is highlighting some of the best women DJs on the 1s and 2s. 
---
DJ Eque has been around the music business for a long time, putting needle to wax ever since she learned what a DJ's purpose is.
The Fifth Ward, Houston native has always had a love for music, which stretches back to her childhood and eventually college, where she made the realization that she wanted to scratch records herself.
A self-described tomboy, Eque describes being a freshman at Texas Southern University and dancing at a party one night, only until one of her favorite records was cut off and wondering why. "I would be there with my girlfriends, and we're dancing, and we hated that the DJ wouldn't play the complete song or it would be half a verse or just the hook," she described to BET during a recent interview. "Soon as you hear the song, you're getting a drink or talking and heading to the dance floor and the song's a wrap. So I was like, that's alright, I'm going to become a DJ."
This would lead Eque to talk to the DJ, who initially believed she was into them for other reasons. Turns out, she wanted to learn. "I was serious about learning how to DJ, so we started practicing and I would faithfully go to his house and practice until I got to the point where he realized that I was not interested in him particularly, but wanted to actually learn the skill of how to do it," she recalls.
Eventually, Eque would not only learn how to DJ, but associate herself with some of her hometown's best, which included the legendary DJ Screw. She notes though that before Robert Earl Davis Jr. became a hip-hop legend he was a local turntablist in H-Town making moves to get his name out.
"He was obviously someone that I wanted to be around. So me and my friends started going to the parties that he DJed at," Eque remembers, noting that the Screwed Up Clik DJ taught her the importance of confidence when putting on a set. "I was just hanging out with him and his friends before he made the label and all those things as an artist."
After learning that DJing was her calling, Eque moved to Los Angeles. It was there that she continued studying and improving her craft, but also, inserting herself into the music business as a whole. She was in the background of a "lot of" music videos, including one for The Dove Shack's 1995 single "Summertime in the LBC." It was on sets like this where she met Uncle Luke and got one of her first big breaks as a DJ.
While wearing a two-piece alien bathing suit and coming out of a pool during a music video shoot, Eque says she approached Luke after learning that he was looking for a DJ to tour with.
"I was like, Hey, I'm a DJ, you're looking for a DJ?" she recalls. "He said, 'You really are a DJ?' Then he was like, 'Well, give me your number. I'm gonna need a DJ. So I'm gonna call you."
Six months went by before Eque received a call from Luke's assistant, who asked if she could DJ for him during Super Bowl XXX weekend in Phoenix. The opportunity ended up turning into a tour with the 2 Live Crew founder and further opened her eyes to what being a professional DJ entails.
Over the years, DJ Eque has been able to take on gigs all across the world – whether it be getting to know and spin for Prince at private events or festival tours with Pharrell. She's also been a fixture in other musical genres and their related events, playing EDM festivals and more.
But as of late, Eque has been translating the musical acumen she's gained from DJing into production and the original music she's excited about releasing soon. Working with the likes of Daz Dillinger and Kurupt, Bun B and Goodie Mob's Big Gipp, she tells BET that a new EP is on the way after making a transition to producing over the past "six to seven" years.
Via her Equsic Multimedia platform, Eque plans on releasing the new project featuring her own production and even hooks, which she said she used on a song she has with Raekwon.
"He did a verse. it was actually supposed to be a freestyle when I sent him the record. And then he sent me back two verses because he loved the record and I created a hook and made it a record. He was blown away by that," she describes. It's called 'Raw,' because it's just raw.
"That was crazy because I'm a fan of Wu-Tang and all those guys," she adds. "So to have that record, I was like, Oh my god, that was a blessing to do. So that kind of gave me the confidence to continue from there."
From going to high school in Houston with Scarface, to meeting Screw and all of her endeavors beyond, DJ Eque's career is definitely coming full-circle, which is something that has her extremely excited.
"I really love to DJ. I really love doing production. I really love it a lot," she says. "I'm totally independent and I'm putting it out on my own platform."