'Growing Up Hip Hop' Star Egypt Criss Gets Married With An Intimate Vegas Wedding—Here's What We Know!
The daughter of Anthony "Treach" Criss and mom Sandra "Pepa" Denton tied the knot at The Little Vegas Chapel last Monday.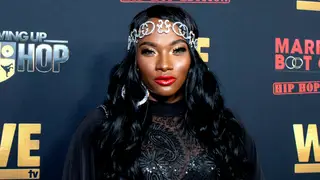 Growing Up Hip Hop star Egypt Criss and rapper Samuel Wright are officially married! According to E! News, the couple happily tied the knot in Las Vegas with an intimate ceremony held at The Little Vegas Chapel last Monday (Jan. 31).
On Saturday, the excited bride took to Instagram to thank all those who sent their well wishes and congratulations after hearing news about their union. "I want to say thank you to everyone for the beautiful Congratulation wishes. I am filled with love and joy," she captioned a stylish wedding photo with her husband.
The 23-year-old continued, "Also, so thankful to God for bringing us together in Holy Matrimony and grateful to start a beautiful journey with a great support system and know that our love can get us through anything."
Back in June 2019, Samuel publicly proposed to Egypt during his Los Angeles concert.
After exchanging their vows, the newlyweds snapped a family photo with Egypt's celebrity parents; dad Anthony "Treach" Criss and mom Sandra "Pepa" Denton.
"So happy to have the honor of calling you my wife!!! Our journey has been so long and amazing but still just scratching the surface. I love you baby," Samuel, who is also known as Sam Mattick, captioned the family photo from the ceremony. "Love all my new and OG family."
At this time, there were not many other details available about the wedding. However, we are sure the big day will roll out on camera in upcoming episodes of GHH. In the meantime, join us in congratulating the couple on their union.