Drake Defends Pink Manicure: 'The World Is Being Homophobic'
The hit-maker recently posted a set of light pink nails to his Instagram.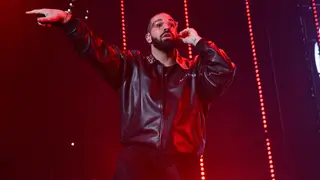 Drake and 21 Savage headed out on their It's All a Blur tour on Friday (July 7) with the show kicking off in Chicago.
But, while fans are lined up to see the Grammy Award-winning rap star, he recently addressed comments about his style choices.
Rapper Lil Yachty commented on an IG post from the kick off of the tour, where he apparently referenced his earrings writing, "Boy got them heavy hangers in his ear." Drake responded, "GET OUT MY COMMENTS YOU TOLD ME TO PAINT MY NAILS SO I STOP BITING THEM AND NOW THE WORLD IS BEING HOMOPHOBIC FOR THE 1st TIME SINCE 'RICH FLEX,'" he wrote, referring to his hit collab with 21 Savage.
The song, which was released in 2022, "wasn't that long ago."
"Wait is the world homophobic? Smh," he wrote.
Lil Yachty quipped back, "woo-sah brother, your [sic] not supposed to have these episodes in public, it's fine. They just don't get u bro #UDIFFERENTAF ‼️"
Fans have been split on Drake's style choice wearing nail polish--however, he isn't the only rap star to do so. Kid Cudi and Machine Gun Kelly have also both been seen sporting the current trend.
Drake even showed off a yellow mani with a blue accent nail as he promoted an online casino in June according to Page Six. 
Some fans have come to his defense, with one popular commenter writing, "Y'all are so damn homophobic for whaaaat⁉️ These comments ssscreeeeam insecure and toxic masculinity," one wrote, adding, "Shut up, getting your nails done is not just for women, and it doesn't make you any less of a man, next callerrrrr."
Drake is among other artists who are a part of another disturbing trend of concertgoers hitting performers with flying objects. According to CNN, at the Chicago opening night, a cellphone was flung onto the stage, seemingly hitting Drake on the wrist, the footage was posted to social media by a concertgoer.