Will Smith Lists Fresh Prince 'Wing' From Bel-Air Mansion On Airbnb
Five $30 one-night stays will be available starting Sept. 29.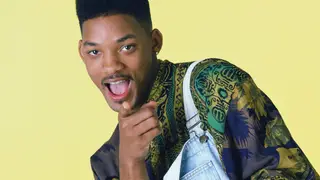 Just in time for The Fresh Prince of Bel-Air reunion special scheduled to air around Thanksgiving, Will Smith is giving fans of the show the chance of a lifetime.
Just five $30 one-night stays in the iconic mega-mansion will be up for grabs for two Los Angeles residents.
"Ready for the freshest staycation ever? If this place looks familiar that's because it's just as fly as it was when I first rolled up the driveway. I'm back," Smith says in the Airbnb post. "And this time, I'm handing you the keys so you'll have my wing of the mansion all to yourself - but my sneaker collection is off limits, aight?
Bookings open on Sept. 29 for one night only stays and proceeds will go to "the Boys & Girls Clubs of Philadelphia, a program that supports youth, including those in greatest need, by offering development and skill-building programs, recreational activities and empowerment tools."
Features from the Bel-Air palace include a basketball court in the bedroom, meals served on silver platters, an extra large pool with lounge chairs, a pool table and more. 
Take a look at the flyest Airbnb on the block below and can book your stay by clicking here.
Will Smith might be feeling some of his wife Jada Pinkett Smith's Red Table Talk energy!
The superstar actor, who recently announced that he was producing a Fresh Prince Of Bel-Air reunion special to be released at Thanksgiving, shared some behind-the-scenes snaps of the taping on Thursday (September 10), and there is a surprise visitor in the house!
According to the photos, original cast member Janet Hubert will make an appearance during the reunion special. Hubert, who was the first of two actors to play family matriarch Vivian Banks on the sitcom, famously had a falling out with Smith as well as other members of the cast. In fact, she's been known to go off on social media with wild allegations about the superstar, claiming as recently as a couple of years ago that he ruined her financially and was responsible for her son's suicide.
Smith has stayed mum about Hubert's grave claims over the years, but it seems he managed to reconcile with his former TV auntie. 
From the pictures, it's evident that Hubert was present for the reunion special's taping and that she seemed to have mended fences with Smith, but she's not present in the bigger cast photo Smith posted. So, it's possible her reunion was just with Smith and not the other co-stars.
We'll have to tune in to the special at Thanksgiving on HBO Max to know for sure, but either way, we love to see a family getting along.
See Will Smith's behind-the-scenes photos of the reunion, below: