Shaking Up The Spirits Sphere: How Duke & Dame's Creators Turned A Dinner Table Idea Into A Black-Owned Whiskey Brand
A South Florida duo sparked the idea for what they described as a sweet-tasting "Werther's Original in a cup," now they are building their company.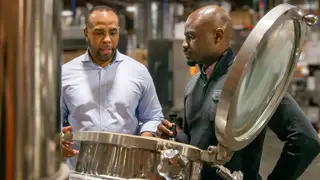 While sitting at a dinner table while enjoying drinks  in 2018, someone asked Chima Burey, "If you could start your own flavored whiskey instead of Fireball Cinnamon, what would it be?"

At the time, he didn't know how popular the beverage was but it got him thinking about it. He soon brought Amani Macaulay, a friend he'd met in New York years earlier, into the mix and the two of them took this tabletop talk to reality. They quickly jumped to testing flavors, sampling with friends and visiting distilleries, launching a final product later that year.

What they came up with was a whiskey, reminiscent of a "Werther's Original in a cup" according to Burey, something for both dukes and dames, but perfect for those not fond of whiskey, brown liquor lovers, or anyone in-between. They called their concoction, naturally, Duke & Dame.
But that meant building the brand as a new Black business in the spirits industry, which is  dominated by White-owned "grandfather" brands who have had their name in the game for decades—far before African Americans even had the opportunity to establish such a business. "As we came into the market, we knew that we were at a disadvantage," said Burey. "We knew we had to make a better product.

"Based on quality," he continued, "now we have something we can market, we have something we can speak to; now we have something that will make our story even more interesting, because we know that we don't have the luxury, especially being a minority-owned business, to just get a second shot at some of these opportunities."
Despite the shut down of in-person events and tastings, Duke & Dame was able to survive and grow 20 percent through the pandemic by leaning into social media like they never had before, and by always preparing for the future.

"You know, it really shows that in business, you have to be flexible, right? You can't predict what challenges are going to come," said Macaulay. "But when they do come, you have to just be nimble and flexible, and willing to pivot to different directions that are going to help you move forward," said Macaulay.
Aging Well
In just five years, Duke & Dame has reached great milestones, winning multiple national and international awards. They have successfully landed in five U.S. markets as well as seven Caribbean markets and an online store. They have scored shelf space in stores like Publix and Total Wine & More, as well as partnerships with big names like MGM, Ruth's Chris Steak House, Carnival Cruise Line, and are even the official whiskey sponsors for the Miami Carnival.

Describing the experience of tasting Duke & Dame, Macaulay laid out what drinkers would taste.
"That first sip is very smooth, a little bit forward. You're getting the hints to caramel, some people get vanilla or butterscotch, but you don't get that harsh whiskey burn that—a lot of times—turns people off from whiskey," said Macaulay, highlighting its unique layer of taste profile, and noting that it has all-natural flavors, no additives and only one gram of sugar per serving.. "Then in the second sip, that changes a little bit because now you start getting more of those whiskey notes."
However, Macaulay and Burey seem to gauge success in a different way. "The first measurement of success was creating an amazing product that consumers resonate with," said Macaulay, emphasizing that success is not just numbers, but a quality product and constant growth of the brand.
"For us success, going forward, really is about introducing Duke & Dame to as many people as possible, and getting to the point where Duke & Dame can be found everywhere," he continued, adding that they hope to introduce new flavors and products like ready-made cocktails in the future.
"We don't really have a defined idea of what next year or the year after is," said Burey. [We'll] continue to do the work of the brand and then just allow it to manifest as far as the magnitude and how it can actually grow."