BET's Blackity Black Guide To Caribbean Carnivals
From the island of St. Vincent to the sexy streets of Brooklyn, we've got the tea on the hottest carnivals to get your hips moving this summer.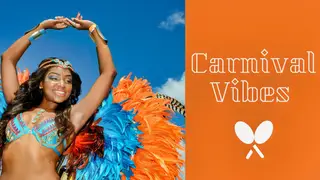 July is heating up to be the ideal vacation month and the perfect chance to turn up all over the globe. Instagram feeds are full of snaps of exotic locals, and some of the most common vacation spots are just a few hours away by air.
Caribbean carnivals in particular have become famous for bringing people from all over the world together to celebrate the culture of the islands. Some carnivals date back to the late 18th century, when African freed slaves, now residing in the Caribbean, took the European masquerade balls that they were excluded from and transformed the celebration into one that honored their freedom and unique heritage. Today, these traditions live on and serve to connect people of Afro-Caribbean descent globally.
Whereas the Juneteenth holiday celebrates the end of slavery, Caribbean carnivals serve as living proof that our  culture and traditions still thrive today—including the music rooted in African rhythms, elaborate costumes, culinary delights, and more—that have not only survived but continue to bring the Black collective together.
The year may be halfway done, but it's not too late to get in gear and get that bucket-list carnival experience scratched off your list. And yes, we are aware that some of the more popular annual Caribbean carnivals like St. Kitts (January), Trinidad (February), and Jamaica (April) have already passed, but it's never too late to hop a flight and get your "jump up" on (or plan for next year) with the carnivals that are still scheduled in the next few months.
Here's BET.com's Blackity Black Guide to some of the liveliest Caribbean carnivals taking place from now until the early fall.
St. Vincent & the Grenadines Carnival | July 10-11

Why You Should Go: Carnival season in St. Vincent & the Grenadines kicks off in June but then culminates in a spectacular two-day celebration known as Vincy Mas-J'Ouvert on July 10th and Mardi Gras on July 11th. Carnival goers can watch local bands battle it out in an annual competition as well as enjoy the colorfully exquisite costumes featured in the parades. One of the oldest carnivals still around, Vincy Mas is marketed as "The Hottest Carnival in the Caribbean, making it a go-to destination for those looking to take a quick trip to the islands this summer.

Famous Vincentian: Soca artist Kevin Lyttle, whose 2001 hit song "Turn Me On" was catapulted to reggae classic status when it was remixed to feature guest vocals by fellow Caribbean musician Spragga Benz.

St. Lucia Carnival | July 17-18

Why You Should Go: Over 80 percent of St. Lucia's population is of West African descent, so you know the island's carnival season, which kicks off on July 1st, is a joyous celebration. Travel to St. Lucia for its lush beaches, clear waterfalls, and the beautiful Piton Mountains, but stay for the carnival. Here, carnivals mean steel pan competitions, Calypso concerts, all-night parties, and fetes with food and drink for all.

Famous St. Lucian: Best known for his role as Geoffrey the butler on The Fresh Prince of Bel Air, actor Joseph Marcell hails from St. Lucia.

Toronto Caribbean Carnival | August 3-7

Why You Should Go: Canada's most famous export Drake has roots in the U.S. (his dad, Dennis Graham, is from there), but the rapper is clearly inspired by Caribbean culture. One of the largest celebrations outside of the Caribbean itself is Caribana, the Toronto Caribbean Carnival, which attracts over a million attendees each year. Should you decide to attend Caribana, you might also consider buying tickets to Drake's carnival-inspired music festival, OVO Fest, which takes place this year on August 6th.

Barbados Carnival | August 7

Why You Should Go: Throughout the season, celebrity carnival sitings included folks like Omarian, his brother O'Ryan, and Chance the Rapper who jumped up and whined down at Jamaica's Carnival earlier this year, making going to carnival the official  2023 "hot boy move. However, let's not forget it was "bad gyal" RiRi who partied like a rockstar at the Barbados Carnival, putting it on the map in the biggest way possible. You too can join in on the celebration with the Crop Over Festival, Barbados' annual cultural celebration of harvest and history, starting on August 1st with an emancipation celebration. Then join some 15,000 revelers for the Grand Kadooment (Bajan for large party) to end the season in a sexy sequined costume with a big colorful bang on August 7th.

Famous Bajans: We all know Rihanna hails from Barbados, but did you know her boyfriend, ASAP Rocky, also has Barbadian roots? His dad hails from the island nation.

Antigua Carnival | August 7-8

Why You Should Go: This two-day parade, described as the "Greatest Summer Festival," takes place in what some may refer to as "the heart of the Caribbean." With Antigua's 365 beaches (one for every day of the year), it may be a bit hard to pull yourself away from this island's captivating waters to play mas. If you do, you won't be sorry. Get wet while on the road when you attend the T-shirt Carnival held a week before the big parade. You'll be sure to work up a sweat, giving you the perfect excuse to enjoy a Wadidi, Antigua's national beer. Have twice the carnival fun by booking a one-hour flight from Barbados to Antigua, so you can score bragging rights for attending two "sweet fa so" (Bajan slang for "very nice") carnivals this year.

Famous Antiguans: Hip-hop pioneer DJ Red Alert, Soul II Soul founder Jazzie B, acclaimed author Jamaica Kincaid, and actress Anna Maria Horsford all have Antiguan roots.

New York City Labor Day Carnival | September 4

Why You Should Go: This annual celebration of West Indian culture is held every Labor Day weekend and takes place in the borough of Brooklyn. It draws over 2 million attendees to the streets of Crown Heights. This massive celebration was originally held as an indoor event in Harlem in the 1930s and was moved outdoors in the 1940s. This West Indian American Day Carnival, which was eventually moved to Brooklyn in the 1960s, also features steel pan performers, stilt walkers, eye-popping floats, and a must-see Kiddie Carnival.

Famous NYC-born Caribbeans: Busta Rhymes (Jamaica) and Maxwell (Puerto Rico and Haiti) both called Brooklyn home as kids, while hip hop monarch Nicki Minaj got her start in Queens.

Belize Carnival | September 9

Why You Should Go: OK, we know that technically Belize is located in Central America, but this beautifully lush country borders the Caribbean Sea and is home to many people of African ancestry who have adopted Caribbean traditions, one of which includes celebrating carnival. Theatrical music, dance, and costumes all come together during the Carnival in Belize (which first occurred in 1975) for a vibrantly colorful and highly entertaining experience. During the pre-carnival J'ouvert celebration, Belizeans and carnival attendees enjoy Soca music, local foods, and much more.

Famous Belizeans: Rapper turned politician Shyne Barrow and actress and influencer Angela Gregg both hail from Belize.

Miami Carnival | October 8

Why You Should Go: Miami's proximity to the Caribbean islands has made it a haven for many from Jamaica, Cuba, Trinidad & Tobago, Haiti, the Bahamas, and Barbados–all of whom celebrate their rich culture, food, and history during South Florida's Miami Carnival. The lively annual carnival takes place the week before Columbus Day in October and puts Miami's Little Havana and Little Haiti communities on the map. The week starts off with a Junior Carnival competition for the young ones and concludes on October 8 with the Mas Band Parade and Concert.

Famous Miami-born Caribbeans: Miami based rapper Trina's parents are from the Bahamas and Dominican Republic.