Barbara Morrison, Los Angeles Jazz and Blues Legend, Dead at 72
The three-time Grammy-nominated singer was a staple in Inglewood/Leimert Park community.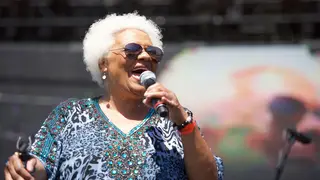 Los Angeles jazz and blues legend, Barbara Morrison, has died at the age of 72.
According to The Los Angeles Times, Morrison passed on Wednesday morning (Mar. 16). Earlier this month, a GoFundMe was created on behalf of Leimert Park vocalist after "she was sent to the hospital with cardiovascular disease."
"It's just a big big loss.. everybody I talked to .. tears galore," said Timothy Morganfield, Morrison's longtime manager.
The three-time Grammy-nominated singer made Los Angeles her home in 1971 after moving to the west coast from Detroit. At the time the then 21-year-old worked with blues icon Eddie "Cleanhead" Vinson and performed on The Johnny Otis Show.
Her singing career took her to perform at jazz festivals in the California neighborhoods of Montreux, Monterey, Long Beach and North Sea. She also performed at Carnegie Hall and jazz venues in Southern California and toured Europe with Ray Charles, The Times notes.
Albums from the songstress include her 1996 release I Know How to Do It and her 1999 release Visit Me. Morrison's vocals also appeared on singer trumpeter Doc Severinsen's "Swingin' the Blues."
Widely known as a staple in the historic Leimert Park Village, Morrison opened the Barbara Morrison Performing Arts Center. She also opened the California Jazz & Blues Museum to educate her California community on notable jazz performers.
Taking her expertise and talents into the classroom, Morrison also served as an adjunct associate professor of global jazz studies at UCLA and in 2020 launched the Barbara Morrison Scholarship for Jazz at the university.
Morrison was scheduled to perform the evening of Mar. 16 at the Catalina Bar and Grill in Hollywood with Dante Chambers, KNBC reports.
A memorial has been created on the sidewalk outside of the Barbara Morrison Performing Arts Center, to honor the late singer.