Yikes: All Hell Breaks Loose Between Fetty Wap's Baby Mothers After Lezhae Calls One Of His Kids a 'Monkey'
Even Fetty jumped in to this melee.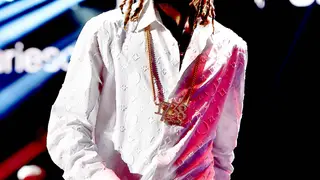 Fetty Wap has almost become just as known for his baby mama drama as he is for his music. The longstanding feuds between the rapper and several of his children's mothers has spilled online and it continues to get messier each go round. Fresh off of the frightening delivery of his premature daughter with Alexis Skyy, the rapper and four of his children's mothers exchanged shots on social media.
We're as confused about all this as you are, but clearly all these grown a** adults need to get their ish together for the sake of their (related) children.
The drama began when Lezhae Zeona, the mother of Fetty's daughter Zaviera and their unborn son, called one of Fetty's children with Turquoise Miami a monkey on Instagram.

She didn't stop there. Lezhae Zeona followed up by throwing shade at Alexis Skyy, who recently welcomed Fetty's daughter Alaiya several months premature.

Turquoise Miami hopped online in response to Lezhae calling her child a monkey.

While that drama was unfolding, Love & Hip Hop Hollywood star Masika Kalysha threw a little shade of her own.

Not done with the beef, Lezhae clapped back with more shade.

Alexis Skyy chimed in with a snippet of her new music that closely resembles the current drama she's embroiled in with Fetty and the mothers of his children.

In the midst of all the drama surrounding his children's moms, Fetty uploaded this quote.