Karen's Husband 'Kevin' Goes Viral: 7 Racist Rants And Attacks Caught On Video
First there was Karen and now there is Kevin.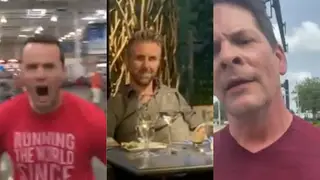 Now that the world has been introduced to the memes and meltdowns from the viral "Karens" we're now being introduced to her partner-in-crime, "Kevin."
In the latest Kevin incident, a Florida man recently recognized as Dan Maples directed his anger at an elderly woman who asked him to wear a mask before another bystander jumped in to defend her at a Costco in the Gulf Coast Town Center on Monday (July 6).
Wearing a red shirt that says  "Running the World Since 1776," the unidentified man yells that he is being harassed and feels threatened, "back-off, threaten me again," as he charges the camera. Eventually being escorted out by Costco employees, Kevin's incident has been viewed at least 2.8 million views on Twitter. 
Since the event, Maples' employer, Ted Todd Agency, has now let the Senior Insurance Agent go from his position. Charley Todd, CEO of the company, released a brief statement on Twitter on July 7. 
An official statement released by Ted Todd Agency the same day.
While this is just one of many that Kevin crazed events that have erupted on social media with racists rants, aggressive attacks and false accusations, check out these 7 Kevins who have all gone viral for all the wrong reasons.
San Francisco Kevin Goes On Racist Rant In Restaurant

While a family was enjoying a birthday celebration at Carmel Valley's Bernardus restaurant in California, a Kevin also publicly known as Michael Lofthouse the CEO of "Solid8" Cloud Transformation decided to go on a disgusting racist rant telling customers to go back to where they came from. This Kevin then aggressively flips off the family and is forced out of the business by employees. 

Publix Kevin Calls A Co-Worker A Racial Slur

Refusing to wear a mask at an Atlanta Publix, this Kevin begins to verbally attack the co-worker behind the counter before taking a deep breath and apologizing for the color of her skin.

Germantown Kevin Confronts Peaceful Protestor Over Black Lives Matter

After driving around a man who was peacefully protesting on a street corner in Germantown, Tennessee, this Kevin formally known as Lloyd Crawford confronts the gentleman yelling obscenities and making threats. Questioning where the man was from this Kevin then accuses him of promoting violence.

Pick-up Truck Kevin Flips Off A BlackLady In A Nearby Vehicle Before Yelling The N-Word

Caught yelling racial slurs from his Ford F-350, Pick-up Truck Kevin (Daniel Michael Merola) flips off a Black lady while at a stoplight before getting out of his vehicle before yelling at her in South Florida. While following her, honking at her and calling the Black lady hateful names, Pick-up Truck Kevin is eventually scared off after two Black men step in to protect her. 

San Luis Obispo County, Calif. Kevin Bursts Into Tears After Going Off On Black Store Manager

Video of a man in Atascadero, Calif. is seen going off before bursting into tears while he yells at Black store manager who kindly asked him to put on a mask. During Cali Kevin's (Greg Baxter) racist tirade, he also asked the store manager to "fetch [him] some water."

Cove Park Beach Kevin Pulls Knife And Pepper Spray On A Group Of Black Men

While a group of Black men met at Cove Park Beach in Connecticut to celebrate some of their birthdays, this Kevin tries to crash their celebration and claims that he is the neighborhood police. Cove Park Kevin then calls the police and claims that he is "being harassed," before later pulling out a knife and pepper spraying the men. 

Get Off My Lawn Kevin Harasses Black Teen For Living In Their Affluent Neighborhood

This Florida Kevin went on a disturbing and racist rant as he harassed a group of teens, one being Black, for living in his neighborhood. 

"You don't belong in this development," the unidentified Kevin yells. "I'm going to call the gate and have you arrested. You do not deserve to be in here."

Continuing his egregious comments, this Kevin then attempts to hit the teens in his car.