Taraji P. Henson, Gabrielle Union And Ciara's Makeup Artists Reveal Their Fave Lipsticks
Looking good doesn't always have to cost you.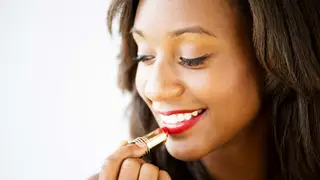 Even if you aren't 100 percent a makeup girl, there's something undeniable about the power of a good lipstick.
Even with a bare face, it instantly pulls your look together. But, with so many versions on the market — how can you find the right one for you? Easy, talk to a celebrity makeup artist who's pretty much tried everything in the market.
And of course you can trust the words of those who touch the faces of everyone from Taraji P. Henson to Gabrielle Union to Kerry Washington and Ciara. Plus, they dished that you don't always have to splurge to look your best — some of their picks start at $6 bucks. 
Scroll down to see what they're loving at all price points. 
Ashunta Sheriff Says:

"I love Pat McGrath's new collection, the packaging is exquisite and the feel is sublime," says Ashunta Sheriff, who works with clients including Taraji P. Henson, Alicia Keys, La La Anthony, Sanaa Lathan, Amber Riley and many others.

"[My steal is] the Lip Bar in Purple Rain, I love the pigment, the wear, and the feel," she adds.

Malika James Says:

"Favorite splurge would be Serge Lutens lipsticks," shares Malika James, whose clients include Gabrielle Union, Lauren London and Tika Sumpter. "The payoff is unmatched and the color last for hours on hours. It's great and doesn't cause for much layering."

"My favorite lipstick for a steal is Colour Pop," she revealed. "The texture is amazing, the pigment is heavy, and the color options are great for any woman!"

Tasha Reiko Brown Says:

"NARS Audacious lipstick is pigment heaven! The color range is extensive and includes beautiful old school classics and offbeat shades," says Tasha Reiko Brown, who works with Yara Shahidi, Jill Scott and Logan Browning to name a few. "It's heavily pigmented and moisturizing, it's everything you could ask for in a luxe lipstick."

"Milani lipsticks are easy on the budget — and made with women of color in mind," she says. "Every skin tone can benefit from the bright colors darker skin pulls off with ease." 

Lucky Smyler Says:

"My favorite lipstick for a splurge is Armani Maestro Liquid Lip," reveals Lucky Smyler, who works with Viola Davis, Tia Mowry and Teyonah Parris. "They do not crease and crack throughout the day, and my clients say it's the most comfortable to wear."  

"My favorite lipstick for a steal is NYX Liquid Suede Metallic Mattes, the pigments are rich, the color assortment is amazing, and they are wearable by everyone of every shade and age," he explains. 

Carola Gonzalez Says:

"The Hourglass Confession Lipstick is chic, elegant and fits anywhere," says Carola Gonzalez, who works with Kerry Washington, Uzo Aduba and Lupita Nyong'o. "The quality and consistency are amazing, and the shades are beautiful."

"NYX Soft Matte Lip Cream in Copenhagen is one of the best burgundy shades I've come across!" she says. "Regardless of who I use it on, it always complements the skin tone, looks beautiful and flattering. The quality is flattering and they have a large range and variety of beautiful classic, neutral, bright, bold, trendy, and edgy shades."  

AJ Crimson Says:

"I love YSL and Tom Ford, they are sexy and creamy and give you life!" says AJ Crimson, who works with Mya, Naturi Naughton and Letoya Luckett. "The quality is really rich." 

"I really like my own lipsticks! I think they are affordable, the texture is smooth and creamy, especially my mattes! For a drugstore lipstick, I love L'Oréal Paris lipsticks, they have a great range of colors."

Lavonne Anthony Says:

"I love Chanel lipsticks because of the smell, quality, color intensity and longevity," says Lavonne Anthony, who works with Kerry Washington, Danai Gurira and Jamilah Velazquez. "It's classic, and it's important when making a splurge that the lipstick packaging be a signature statement. I've had Chanel lipsticks for quite a while and they still look new." 

"The Milani lipsticks are such a good deal at under $10 and the product last for a long time, no cracking, peeling or dryness," she adds.

Yolonda Frederick Says:

"My new favorite lipstick for a splurge is Brown Rose MatteTrance by Pat McGrath Labs," reveals Yolonda Frederick who works with Jennifer Hudson, Ciara and Cynthia Erivo. "It's a super velvety matte that's highly pigmented."

And again for a steal, another Milani lover! "I really love the Milani brand. They have a wide range of color options and the lipsticks are moist, rich and highly pigmented."


Camara Aunique Says:

"I love Tom Ford's matte lipsticks," Camara Aunique revealed. Yvonne Orji, June Ambrose and Lisa Price are some of her most notable clients. "The packaging is beautiful and the staying power is long." 

"CoverGirl Melting Pout is really amazing," shares Camara. "It's full coverage and comes in beautiful colors."