Watch: Will Smith Explains How He Dealt With Jaden Wearing Women's Clothes
We could all learn from this.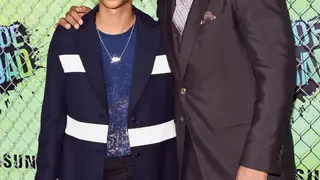 Will Smith's new film Collateral Beauty is all about dealing with the unexpected things life throws at you — something the award-winning actor knows a thing or two about.
Of course, Smith isn't dealing with near-death experiences like his character. His curve balls include raising a son, Jaden Smith, who has an affinity for wearing women's clothes — and his reaction to his child's unconventional lifestyle is decidedly more balanced than the character he plays in the film.

In our exclusive interview with the actor, Smith talks about what he would tell other parents whose sons may prefer skirts to pants. "First of all, I don't give parenting advice per se, because it's such a unique task. The greatest human task is to render a human being into the world," he cautions. "What I do with my children, that I feel that the greatest gift that I can give my children is the freedom to be who they are." 
He continues, "Jada and I are very serious about finding what they are, and encouraging them to be what they are because you can never be happy being what you're not."
See his wise words about parenting — good advice for anyone raising kids — above.
Collateral Beauty opens everywhere this Friday, December 16.