Rep. Ilhan Omar Calls Kamala Harris' Confrontation With Joe Biden 'Brilliant' On BET's Latest Episode Of 'Black Coffee'
The congresswoman also talked about inhumane detention centers, reparations, and impeachment.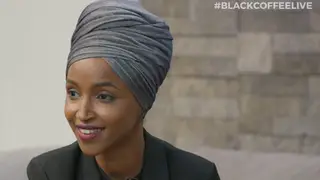 Minnesota Congresswoman Ilhan Omar stopped by BET to talk all things politics, music, and Black culture for the latest installment of "Black Coffee."  During her conversation with host Marc Lamont Hill and co-hosts Gia Peppers and Jameer Pond, Omar revealed that while she isn't ready to endorse any Democratic candidates, she did find the exchange between Kamala Harris and Joe Biden "brilliant."
"As you know, I find comfort in discomfort," Omar began. "I think there was a moment because we have people who take politically expedient votes to implement a policy that they think there isn't going to be such a drastic impact."
"For her to stand there and say, 'I was that girl,' [and] put a face on how you get politicians who don't fully pay attention to [see] the kind of drastic impacts some of the policies they implement will have on people generations to come," she added.
During the entire 40-minute conversation, Omar also revealed where she stands on issues that impact the Black community, such as legalizing marijuana and reparations.

"It's important for us to do it federally and not allow for the states to pick and choose," Omar told Pond about her thoughts on legalization. "Because what happens is you will have a state where someone is publicly and professionally allowed to profit and the next state someone could be sentenced to life for it, so we want to make sure there is equality in our laws."

Omar said if and when the country legalizes marijuana, lawmakers must also ask, "How do you allow the people who have been impacted by these policies to get reparation?"

When Hill asked Omar where she stands on reparations for Black Americans, she responded, "It's past time."

"I'm an African immigrant, my situation is very much different in the way that my family interacts with the system, and I want to make sure my colleagues who come from enslaved ancestry are deciding how that policy is implemented in that regard. I am in full support in trying to make sure we are taking full steps into getting reparations."

As an immigrant herself, the congresswoman also stressed why the dire situation at the Southern border is a humanitarian crisis the U.S. would not allow another country to enact.

"There's a complete atrocity taking place at our border," Omar began. "We've helped create this crisis and now we need to figure out how to completely eliminate this crisis."

The representative explained why she believes this situation is a result of policies from the current and former administration mixed with a lack of economic stimulation in Mexico.

"We as a country have always been quite comfortable with 'othering.' It takes a while for us to feel connected to those who are struggling."

While many critics have blamed undocumented parents for bringing minors across the border, Omar said, "No parent is making a choice to further endanger their children's lives unless they know their children's lives would be more in danger if they stayed."

And when the topic of impeachment and the pragmatism of Congress arose, Omar said she is not afraid to take action.

"It is past time for this president to be impeached, we know that he has committed violations upon violations. It's no longer a question of whether he should be impeached, it's when," Omar said.

"In a couple of weeks we are going to have [Robert] Mueller come testify to the findings of his investigation, and I think we are going to give the people an opportunity to have a full understanding," she added.

You can watch the full episode of Black Coffee with Ilhan Omar below or by clicking here.